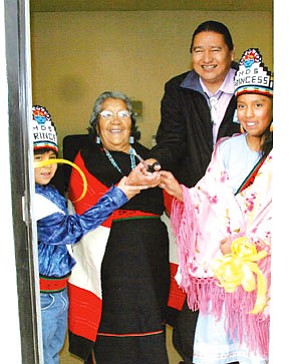 Originally Published: December 18, 2007 3:07 p.m.
MOENKOPI-The celebratory mood during the grand opening of the Moenkopi Developers Corporation's (MDC) new wastewater treatment plant on Nov. 27 was blessed with a gentle early morning rain shower. It provided both a picturesque and spiritual backdrop to the Kerley Valley amid the large crowd that had come to christen the newest project for Upper Moenkopi.
The MDC is keenly aware of three critical elements of long-range economic vision: constitution, self-governance and self-sustainability.
The MDC Board is setting pace for other Hopi villages as well as surrounding Native reservation communities to initiate and establish viable economic Hopi village projects that promote healthy revenue and new job opportunities utilizing self-determination.
Starting in 1995, the MDC has gone through several stages of business metamorphosis, including almost fading out altogether.
But in 2001, the Upper Moenkopi Village considered a full revival of the MDC because of new, innovative business interests within the village arena and a full recognition of their own village sovereign authority that had never been taken advantage of before.
Understanding that politics can hamper projects, the MDC decided that they would need to steer clear of both local village and the Hopi Tribe's larger executive branch to become successful in their own village level economic pursuits. So they separated into their own private corporation entity.
With the selection of Daniel Honahni, a former Warrior graduate of Tuba City High School who went on to Harvard for undergraduate work and now serves as MDC's current CEO, two of four of MDC's major construction projects are now complete.
Both the major waterline project to their village commercial site and the wastewater treatment center are now up and running, with the Tuuvi Travel Center set for completion in January 2008 and the proposed Moenkopi Hotel and Conference Center set for May 2009.
Further MDC future project ideas include a Moenkopi Office Complex, Hopi Cultural Interpretive Center, a luxury apartment complex and a Hopi Education Center.
Honahni brings to his Hopi village corporation a wealth of experience and background. He has served on the National Indian Education Advisory Committee, was comptroller of the Hopi Tribe, an associate professor at University of New Mexico, president of the College of Ganado from 1980 to 1985, served on the Save the Children's Executive Board and was a Commissioner for the Arizona Indian Commission for two terms, as well as being a legislative analyst for the Hopi Tribal Council.
Honahni spoke before the crowd of both Hopi and Navajo tribal members along with special non-Native guests, friends and family members,
"I stand here before you with mixed feelings at this special village project celebration because the elders who stood valiantly and fought for our Hopi land and our education and opportunity for our children and grandchildren are not here physically with us today," he said.
"I can still hear their voices, their announcement of their individual clans, and I can remember their unique behaviors - as they spoke. I can still smell the smoke of their cigarettes and their wood burning stoves as they would sit, talk and discuss the future. They never lost faith in the duties or purposes of what they had to do to for future generations. I hope they are proud of us today," he added.
MDC has always dreamed of a village of self-sufficiency, and this new wastewater project is the first step towards sustaining the additional village projects being planned.
The MDC did not want to be dependent upon any other entity for its long-range development plans, so the wastewater treatment center needed to be the infrastructure priority so that MDC would not be subservient to any outside utility company.
The Navajo Tribal Utility Authority in Tuba City had told MDC that they would not be able to support any new development in the Tuba City area including the Hopi villages, since their maintenance and operations only had authority over Navajo reservation areas and would not cover the Hopi sovereign land base of Upper Moenkopi, which is immediately adjacent to Tuba City.
With the population of Upper Moenkopi generating 69,000 gallons of sewage every day, it was critical for MDC to develop its own water treatment plant if more sophisticated revenue projects were to become reality.
With a generous $5.8 million dollar loan from Upper Moenkopi, the wastewater treatment plant is currently operating at only 1/3 of its capacity.
The new treatment plant can eventually support up to 186,000 gallons of A+ affluent (safe drinking level) water for the new projects that MDC is finalizing now and the other village proposed projects that have yet to begin construction.
Native Vietnam veterans posted colors, Upper Moenkopi's Village Governor Wayne Kuwanhyoima introduced special guests Leonard Gradillas from the USDA Rural Development Department and Thomas Doyle from the Arizona Department of Commerce, and Alan Numkena, Lt. Governor from Upper Village of Moenkopi gave the closing prayer.
For more information about the wastewater treatment plant or about MDC's progress and projects, including the upcoming opening of the Tuuvi Travel Center, call (928) 283-5999.