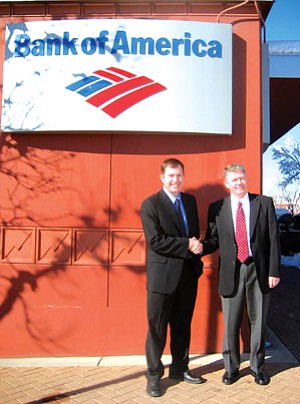 Originally Published: December 18, 2007 3:29 p.m.
FLAGSTAFF-The Arboretum at Flagstaff was the recipient of a generous donation from the Bank of America Charitable Foundation, Inc. on Nov. 28. Senior Vice President Greg Sampson presented The Arboretum's Executive Director, Steve Yoder, with a check for $2,200 to support Summer Adventure Programs, environmental education summer camps for preschool and elementary school aged children. The funds will enable The Arboretum to improve and expand its offering for the upcoming 2008 summer season.
Next summer The Arboretum plans to provide half-day outdoor environmental educations programs for preschoolers and elementary aged children. Entomologists will offer more sections of the week-long "Bug Safari" and raptor rehabilitators will lead a "Birds of Prey Camp" for middle-school aged students. Financial support from Bank of America will help to keep program fees affordable for Flagstaff community members.
The Arboretum is a botanical garden, research center, and nature preserve dedicated to educating the public about the plants and plant communities of the Colorado Plateau. It is located four miles south of Route 66 on scenic Woody Mountain Road in West Flagstaff. The Arboretum is open daily from 9:00 a.m. to 5:00 p.m., April through October. For more information visit thearb.org or call (928) 774-1442.
More like this story