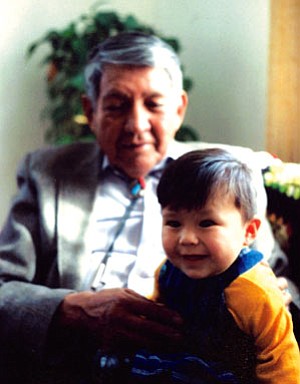 Originally Published: December 11, 2007 5:45 p.m.
WINDOW ROCK - Marshall Tome, the first known Navajo journalist who is credited with transforming the Navajo Times from a tribal education newsletter into a full-fledged newspaper dedicated to Navajo news, died Nov. 21. He was 85.
"I was saddened to hear the news of the passing of the late Marshall Tome," said Navajo Nation President Joe Shirley Jr., "He was a great example of a man dedicated to his family, his people, his country and his profession. As a young married man, and at great personal cost, he responded to the call to return to the Navajo Nation to help his people, and that's exactly what he did for the rest of his life.
"On behalf of the Navajo Nation, I appreciate what he did for our people. He will be deeply missed by his family and many friends," President Shirley said.
Tome's funeral was Nov. 28 in Farmington. Burial was to follow at the family cemetery in the Mitten Rock area in Red Valley, N.M.
Tome had suffered from lung disease and was admitted to the intensive care unit at the Fort Defiance Hospital the week before his death when he developed pneumonia.
Tome's son Deswood, spokesman for the Navajo Nation Washington Office, said it is believed his father was born July 16 in either 1922, 1924 or 1926 in Red Valley.
"My grandparents really didn't know," he said. "Back then, nothing was recorded. My dad didn't have a birth certificate. Only when they wanted to do a census on Navajo, they estimated."
He said his father - one of 12 children - was 16 years old when he changed his birth date in order to enlist into the U.S. Marine Corps during World War II.
Tome is fondly remembered by family and colleagues for his strong work ethic, dedication to service, and excellence.
"My dad was always an early riser," Deswood said. "He was up at 5 a.m. He was always in a mode of preparation. He got that from the Marine Corps."
He said when his father and brother enlisted, they would hear other recruits complain about the deprivations of military life but that they were exhilarated.
"My dad thought it was paradise," Deswood said. "He said, 'We have running water. We have three meals a day. We have paved roads to drive on.'"
Tome served in the South Pacific in an elite amphibious unit, and was honorably discharged from the Marines in 1945 as a corporal.
Following the war, he went to Detroit, Mich., to build cars at the invitation of a captain he met in the service.
After a year there, Tome used the GI bill to attend the University of Kansas, completing his bachelor's degree in journalism at the University of Missouri in 1952.
While working as assistant city editor of the San Francisco Chronicle in the 1950s, he was asked to return to the Navajo Nation by Dillon Platero, then-chairman of the Navajo Education Committee, to turn the education newsletter into a newspaper, Deswood said.
He said his father returned in 1959 to a job at half the pay and with no place to live.
"My dad slept in his car a lot of times and showered at Good Shepard Mission in Fort Defiance," he said.
Tome ran the Navajo Times from 1960 to 1965, leaving to become Director of Communications at Arizona State University. His career also took him to the Albuquerque Tribune and Kansas City Star.
He returned to the Navajo Nation from 1971 to 1983 to work as a executive assistant to then-Navajo Chairman Peter MacDonald and as director of the Navajo Division of Community Development.
Wallace Hanley, currently department manager for Navajo Nation Facilities Maintenance, said he worked alongside Tome in the chairman's office for 12 years.
"We came in early, worked well into the evening, and a lot of times on weekends," he said. "We did a lot of traveling to chapter meetings, and kept the Navajos well informed."
Dr. Floyd C. Parker, a retired physician from Farmington who now lives in Los Lunas, said he and Tome were close personal friends since 1974 when Tome was director of the Navajo Division of Community Development.
"He was very, very dedicated to the Navajo people," Dr. Parker said.
He explained that when the American Indian Movement took over the Fairchild building in Shiprock, N.M., in the 1970s, Tome stepped in to resolve the situation.
"He brought them out and brought their guns out," he said. "He had no fear, and he was a very, very smart man. He was one of the bravest men I ever knew."
Together, they started the Navajo Nation Enquiry newspaper, which operated for four years
"I told him, 'None of the public media will print the truth, so why don't you put a paper out for all the Navajo, for the people to read,'" he said. "We'd be writing about people that deserved writing about. He printed the truth, and lots of it. His articles were very good. Everything he did was just to help the people."
Tome was preceded in death by his wife Carrie Dean Tome and son, Robert Tome. He is survived by his son Deswood Tome of Washington, D.C., daughter Dana Tome of Window Rock, and three grandchildren.