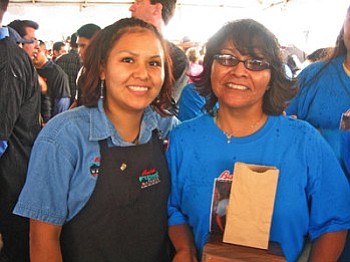 Originally Published: December 11, 2007 5:38 p.m.
PHOENIX-For the first time in history, a Native American courtesy clerk successfully made her way to the statewide Pack Off Competition held Dec. 1 in Phoenix.
Adrienne Begay, Diné, began preparation for the competition in July at her hometown Bashas' Diné Market, store number 42, in Kayenta, and worked her way through local, regional and state competitions to earn second place overall.
Begay, from Dennehotzo, said the support of her fellow Bashas' employees helped her through the competitions, which eventually lead her to second place when competing against clerks from grocery stores throughout the state.
"I've learned a lot from this competition," she said. "I was disappointed that I got second, but just knowing that there has never been anyone from Diné Market that has made it that far ... no Native American has ever won for the Bashas' company. So it means a lot to me. A lot of courtesy clerks don't take the competition seriously when it comes to their store-thinking that it's a waste of time, but it really is exciting and to me, being part of the Diné Market going that far is something that I'll always remember."
Begay is now a junior at Northern Arizona University majoring in criminal justice with a minor in social work.
Following her second place ranking, she earned a trophy, $500 and confidence in knowing her capabilities.
Bashas' manager Deborah Baldwin explained that the preparation for the final statewide grocery Pack Off begins before July.
"The courtesy clerks in each Diné store-seven of my stores and northern store have the courtesy clerks start competing or practicing. They practice and begin competing within their own stores. They practice bagging. They are sent special bags, these paper sacks that are a little bit taller than the ones that we normally use," Baldwin said.
In addition to these unique paper sacks, the stores also receive a list of groceries that each competitor will need to arrange in the paper bag.
"Some stores have maybe 10-15 courtesy clerks and some have more. So whoever would like to compete practices and then each store has a contest in their own store and out of all the competitors they have one courtesy clerk who represents their own store. Then, I have a contest with my Diné stores and I pick two-one from each region to compete against each other," Baldwin explained.
She said that one winner from Chinle, Crownpoint, Window Rock and Pinion is selected, as well as one from the Dilcon, Kayenta and Tuba City stores.
"Then my two winners go to Flagstaff. In their division, they have about 26 competitors," Baldwin said.
By the time each of these regional grocery chains narrows their competition to a single courtesy clerk, the race consists of eight.
In addition to bagging quickly and efficiently, competitors must display personal pride in their work. Baldwin discussed the variety of skills necessary to come out on top in the Pack Off.
"It's because of their hard work and because they decide they want to compete. Then when they're competing it's the style, technique, the speed, the layout, the organization and the positive image that they project, and everything," Baldwin said.
"We want to have our customers be happy with their bagging when they get home.
This contest is something for the courtesy clerks to feel proud of themselves in their position and in what they do as baggers," she said.
Baldwin said that Begay excels in all of these areas.
"Adrienne is very friendly, she's quick, she's very polite. She is very helpful with elders, the youth and attracts a lot with customers," Baldwin said.
"What got her to the competition was her whole attitude-her positive attitude. She loves to compete. She loves to challenge and to try new things. She loves to challenge herself and she's just a great all-around person. She's just so friendly and I can tell that she can focus and concentrate and when I asked her how she managed to practiced when she was going to college she said, 'you know what? It was very hard for me because I was studying for exams while I was preparing for the competition. So I had to find time to study, go to school, go to work and practice.' And I said did you get any sleep? And she said, 'yes, I did, but it was very hard.'"
According to Arizona Food Marketing Alliance vice president Debbie Roth, the Pack Off has been held for 18 years. So, Begay's feat is a true accomplishment.