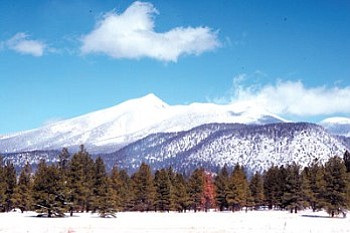 Originally Published: December 5, 2007 4:23 p.m.
The San Francisco Peaks area is a unique mountain ecosystem, which is managed as public lands in northern Arizona.
The Peaks are held holy by more than 13 Indigenous Nations. A small ski area is threatening expansion and attempting to make fake snow from treated sewage effluent filled with harmful contaminants.
A coalition of tribes and environmental groups have unified to prevent the environmental destruction, community health hazards and extreme desecration that would be caused by the proposed development.
Although the 9th Circuit Court of Appeals blocked the ski area plan in March, the case will be reheard in Pasadena Dec. 11.
Along with the events planned below, the Save the Peaks Coalition is calling for prayers to be made on Dec. 11 to support the protection of all threatened sacred places.
If you, your group or organization would like to sign on as a supporter of our efforts, please send an email indicating your support to coalition@savethepeaks.org.
Your organization/group/individual name will be published on the website and possibly on outreach material with your permission of course.
The Save the Peaks Coalition is also planning a caravan from northern Arizona to Pasadena to support the efforts to protect the Holy Peaks. If you would like to go on the caravan please contact the group by Dec. 5. Please call or e-mail Jeneda Benally at (928) 527-1431 or coalition@savethepeaks.org to reserve your space or for more information.
Flagstaff events:
Wednesday, Dec. 5, 5:30 p.m.
Save the Peaks Banner Making Party at Taala Hooghan Infoshop and Youth Media Arts Center, 1926 N. 4th St. No. 7B.
Tuesday, Dec.11, 4 - 5:30 p.m., Save the Peaks Vigil for Justice at Heritage Square, downtown Flagstaff.
Los Angeles/Pasadena, Calif. events:
Saturday, Dec. 8, 6 - 8 p.m., panel discussion and awareness concert at Self Help Graphics and Art; 3802 Cesar E. Chavez Avenue in Los Angeles.
The discussion entitled: "Defending the Land: Indigenous Cultural Survival, Environmental Justice and Protecting Sacred Places" will be held with representatives from environmental groups, grassroots organizations and Indigenous communities struggling to protect sacred places.
Protect Sacred Sites! Awareness Concert starting at 8 p.m. (Bands TBA) will follow the discussion. For more information call (323) 881-6444.
Monday, Dec.10, at 6:30 p.m., a welcoming ceremony for Save the Peaks caravan from northern Arizona will be held with dinner and speakers. The event will be held at the All Saints Church; 132 North Euclid Avenue in Pasadena.
Tuesday, Dece. 11 - Save the Peaks court date. The case will be heard at the Pasadena Court of Appeals at 3 p.m. The court is located at 125 South Grand Avenue in Pasadena, Calif. Parking is limited in the area so please carpool and use public transportation.
On Dec. 11 several events will be held as follows:
Noon - 1:30 p.m., March for Sacred Sites and Human Rights!
Meet at All Saints Church for lunch and march to the appeals court.
1:40 - 3 p.m., Prayer vigil, ceremony and rally outside the courthouse. The vigil will continue outside for those who do not wish to enter the courthouse.
3 - 4 p.m. Court proceedings. Individuals will be able to go inside the courthouse to view the court proceedings and show support.
5-5:30 p.m. Press Conference outside of courthouse.
Visit www.savethepeaks.org for more information.
More like this story