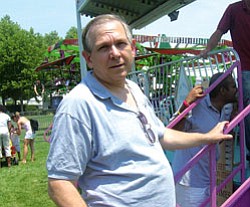 Originally Published: August 29, 2007 12:43 p.m.
FLAGSTAFF-Tanya Lee's entry into Native American news was pretty much a stroke of good luck. She answered an advertisement in the Navajo Hopi Observer for a graphic design artist in October 1997. She met then-publisher Jay LaPay to interview for that position, and much to Lee's surprise, she was instead offered the editor's position. Despite extensive writing experience, she was neither a journalist nor a newspaper editor.
"It was an incredible opportunity," Lee said in retrospect on Aug. 9. "My decision to apply as a graphic artist was not driven by a particular interest in Native American issues."
That is not to say she had no knowledge of Native American issues-Lee's husband, Garret Rosenblatt, had worked with Vernon Masayesva at the time Masayesva served as principal of the Hotevilla-Bacavi school. Rosenblatt worked for the National Humanities Faculty.
After leaving the Observer in 2000, Lee was hired by Masayesva to handle public relations for his newly-formed Black Mesa Trust. Lee also began producing freelance journalism covering Native American issues.
"I had my original interest, which was developed through my work with the Observer. I knew the issues, I enjoyed the work, it provided valuable service to people, and I knew I could continue to do this work during my visits back East to help my daughter with her twins."
Lee met Myron Struck when she responded to an online ad he placed looking for people to write summaries of news stories.
"That didn't work out for me because each summary was taking too long," Lee said. "It occurred to me that the information delivery service Struck was using could benefit Native American tribal leaders."
Struck has had an interest in Native American issues since his childhood in Florida.
"I guess I've always had that interest," Struck said by phone from his home in the suburbs of Washington, D.C. "We lived in close proximity to the Seminole and Miccosukee of the Florida Everglades where I grew up."
Struck is editor and publisher of Targeted News Service, which partners with the Hindustan Times of New Delhi, India in routing information from more than 10,000 links on the Web.
"Tanya Lee happened along and after awhile she admitted that she was not overly into the energy report topic, so we sat and discussed what she was into," Struck said. "We began thinking, why not develop a targeted news service to serve Native America?"
Struck said that it was not a belief that Native American tribes were incapable of gathering the information that he and Lee offer that inspired the service, but that they offer information that one cannot get easily through a Google or Yahoo news search.
"Myron has been a journalist for decades. He is much more knowledgeable than I about journalism and how to do it," Lee said.
"Myron is a partner in a business that scans thousands of URLs, including those of federal governmental agencies, state governments and tribal governments, picking up press releases that are put into a database," Lee continued. "One of the things that the system is capable of is a keyword search."
Lee and Struck developed their own keyword vocabulary to pull up information of value and interest to Native American tribes and communities.
"Every morning..., we have anywhere from 20 to 50 press releases from governmental agencies, state governments, tribal governments and colleges, and Native American associations that are turned up by keyword search," Lee said. "We select and publish on our website those that are of interest and significance to Native America."
After that work is finished, Struck and Lee go through the Federal Register. They pull out everything of Native American interest-grant and funding opportunities, rules being proposed or finalized, and announcements of meetings of federal agencies related to Native Americans.
"Everything is summarized, organized, edited and presented in a consistent way," Lee said. "What this means is that 561 tribal governments do not have to spend three hours every morning to do the same thing. We provide this new and unique service free of charge in a format that makes it very easy for people to use."
This partnership brings two individuals of equal strengths and abilities to work on a vision that they share. And both have bigger plans for www.NewswatchNativeAmerica.com.
"We've built the rest of the website, expanding to link all tribal websites and reaching out to Native America," Struck said.
"This allows one to find the type of business wanted by cross pollinating-and there has not been one place to do that before. From my perspective we are doing this as a beneficial service, and what we need to do now is to develop a funding stream to support the project into phase two."
"We are in the process of setting up an advisory board of Native Americans, which is very important to us," Struck continued. "We don't want to be seen as outsiders stepping up to tell Native Americans what to do-only that we have a good idea and we think by sharing it with tribes and their leadership we can help develop a self-sustaining source of revenue. This is not like us going onto a reservation and establishing a McDonald's-this is an opportunity to participate in outside business.
Lee and Struck are looking for Native American tribes and businesses to collaborate with NewsWatch on the development of the concept and the products.
"We are proposing to develop some news delivery products, and we want those products to be created by tribal government agencies and Native American businesses. This will create jobs and revenue hubs in Native American communities. We offer, as an online service, the opportunity to showcase ... jobs that people can do at home on the reservation or in urban areas," Lee said.
"The Native American community has moved from being on the front-lines to the sidelines due to the actions of the U.S. Government," Struck said.
"One key leader said it well at a conference I attended at the Mohegan Sun in Connecticut-'We've tried poverty for 200 years, now we're going to try something else.' He was speaking of gaming, which has worked well for more than 50 tribes, but it is only the tip of the economic iceberg. We believe Native Americans need additional opportunities."
"We want to be part of that next stage solution, bringing clean, good job opportunities to tribes," Struck continued. "We bring through our work an information flow to those tribal leaders-they can only be as independent as the government as a benevolent parent allows if they do not have market clout and economic self-sufficiency."
Struck believes that the next century will be interesting as tribes strive to keep the flavor of their unique cultures, their languages and beliefs, while at the same time becoming an increasing force on the world stage.
To contact NewsWatch Native America, e-mail Myron Struck at struckvail@aol.com or Tanya Lee at tanyalee@post.harvard.edu.