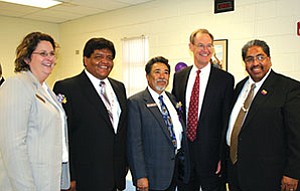 Originally Published: August 15, 2007 5:16 p.m.
PHOENIX-Attorney General Terry Goddard served as the keynote speaker at the Tohono O'odham Nation Inauguration Ceremony on Friday, Aug. 3 honoring Chairman Ned Norris and Vice Chairman Isidro B. Lopez. Goddard emphasized the cooperation between his office and the Tohono O'odham Nation.
"Just as law enforcement agencies rely on one another to protect their communities effectively, State, local, and tribal leaders must also look to one another to succeed at strengthening their communities," Goddard told the audience. "As Attorney General of Arizona, I pledge Arizona's continued partnership with and support of the [Tohono O'odham] Nation.
Working together we can build on vibrant cultural traditions and foster a growing list of achievements in our communities."
Norris and Lopez were sworn in during an all-day celebration at Baboquivari High School, just south of Sells.