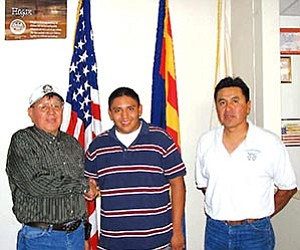 Originally Published: August 8, 2007 10:44 a.m.
TONALEA-On July 28, Tonalea Chapter president Chester Claw hosted the 2007 Graduate Recognition Day for Tonalea students who recently graduated from various community colleges and high schools.
"We would like to recognize our 2007 graduates for their hard work." Claw said.
Tonalea Chapter designated an enrichment program to encourage higher learning for Tonalea residents. Claw stated that Tonalea Chapter reserved monies to go toward scholarships for students.
"Valedictorians, we have set aside a $1,000 dollar scholarship, $750 for salutatorians and $500 for any student that graduates in the top ten of their graduating class, and they must be residents of Tonalea Chapter area," Claw said. " We want to encourage students to get their education and hopefully return to Tonalea and help us.;
Vincent Denetdeal, Community Services coordinator, opened the ceremony with an invocation. This was followed by entertainment and words of encouragement by former council delegate and chapter president Billy Reese Kee.
Henry Fowler, local resident and a student of Santa Barbara Graduate University, was the keynote speaker.
Fowler acknowledged the hard work a student has to go through and the many sacrifices on the part of the student as well as family members that remain at home to take care of the home and livestock.
"I would like to thank my elders for their values and hard work. You have demonstrated courage and strength while we are away from home, and you have been supportive in my years in school." Fowler will receive his doctorate degree in the spring of 2008.
Next, Northern Arizona University Educational Talent Search program director Eugene Begay addressed the crowd and expressed his appreciation for community support of young scholars.
"Only 150 Native Americans are awarded each year with the Gates Millennium Scholarship. You have two from your community that have received this award," Begay said.
The first to receive the award in 2005 was Jamie Wilson, who also attended Tonalea School. "It really says a lot for the Tonalea community," Begay said.
Through the Northern Arizona University Educational Talent Search program, Begay works with Tonalea School students as well as local area high schools.
Then, President Claw announced the 2007 Gates Millennium Scholarship recipient Jorday Begay, who graduated from Tuba City High School in May.
"Tonalea will award $500 for finishing in the top ten, and apply in the fall for another $500 scholarship, so Tonalea will assist with $1,000 for your education," Claw said.
Begay said, "I went to Tonalea School. Then I did not know where to go since there is no high school here in Tonalea. So, I chose Tuba City."
Begay will attend the University of Arizona to study biology.
Begay said, "I hope to return in about 10 years to Tonalea and help my community."
Tonalea Chapter plans to continue recognizing students annually, Franklin Tohannie, chapter secretary stated during his closing remarks.