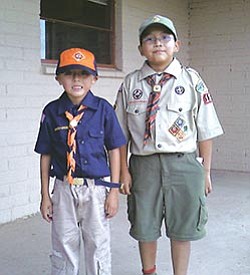 Originally Published: August 8, 2007 10:37 a.m.
LEUPP-A groundbreaking process is occurring on the Navajo Nation with effects that will reach youth throughout the continent for centuries to come. Nine-year-old Kinlichiinii Ashkii John of the Red House Clan, born for the Salt Clan, his two sisters and parents are working to establish the first Boy Scouts of America Native American Religious Emblem.
Since its official genesis in 1910, the Boy Scouts of American (BSA) has adopted the religious symbols of 35 religious groups to encourage members to grow stronger in their faith. These religions vary in diversity and include Baptist, Roman Catholic, Hindu, African Methodist Episcopal Church, Baha'i, and Meher Baba (to name just a few). However, nothing to signify a Native American religion has ever been included.
Kinlichiinnii's mother, Melvina "Mel" explained that when it became time for the other scouts to earn their religious emblem, "Kin" was excited to join the ranks and earn a religious emblem by demonstrating his religious devotion.
"He began to research the process in earning a religious emblem and discovered there wasn't one for his religion," Mel said.
Many Native Boy Scouts who are not members of a BSA-recognized religion go to the nearest church, go through that religion's preparatory manuals, then receive a signature from the resident minister or priest, Mel explained.
"He and his dad talked about it and Kin decided that he just wouldn't feel right doing that," Mel said.
"It would feel weird that I would learn a different faith that I didn't know," Kin explained.
"He said, 'mom, when do we start the processes to get a religious emblem? Have we looked into it?' So we started inquiring about establishing a religious emblem for Hataali Association of the Diné Nation, Azee Bee Naghá of the Diné Nation and the Native American Church of North America. We found that there was no workbook and no steps in place for us," Mel said. "Kin felt that there was no point in getting close to a faith he wasn't raised in. We respect the other religions, but we don't know that way."
BSA explains that the religious emblem is designed to encourage members to grow stronger in their faith and as Mel discussed, "closer to their God."
The BSA writes: "A Scout is reverent. He is reverent toward God. He is faithful in his religious duties and respects the convictions of others in matters of custom and religion."
BSA does not design any of the religious emblems or the accompanying workbooks. These responsibilities are given to the respected members of each religion. Thus, the John family is currently seeking the advice of all Native American Church members, officers, roadmen, spiritual leaders and hatathliis as well as Diné Nation political officials and BSA leaders.
"We're starting from the ground up," Mel said. "We went straight to the Navajo Nation President's Office and talked to the front desk attendant. So we started with the grassroots. But there are so many protocols that everything is moving kind of slow."
Kin and his family held their first local meeting to discuss the series of steps outlined by BSA in designing the religious emblem study program and award Aug. 1 at the Leupp Chapter House.
With his own money Kin purchased a sheep to be butchered and served to his guests. Several traditional foods were served including corn and fry bread and local businesses including the Winslow Safeway and Winslow Basha's donated items in support of Kin's mission.
Numerous Native American Church members attended the daylong event to share their opinions of the tenets necessary in the BSA Native American Church program and emblem.
Beverly Smith, Mel's sister, and the secretary of the Azee Bee Naghá of the Diné Nation (ABNDN), explained that the most important element discussed at the meeting was learning the Diné language.
"Language was definitely the number one concern," Smith said. "They also mentioned teaching patience, respect, character and the traditional expectations of a hunter, a leader and family man. Some wanted to include teachings in both Western and Navajo Ways."
"The main focus would be to get these boys closer to their faith," Mel said. "For example, there is the tipi and the tipi poles. They need to know-what is the reason for this meeting? How do you pick the tipi grounds? How do you pick the tipi poles? And inside the tipi, how everything is structured, how everything is set up."
"This is one way for Navajo kids to learn about the traditions-to learn in Navajo to say their name, their four clans, about sand paintings-their significance, and when they ask, 'Why can't I step on it?' they know the reason why. This is another avenue, another opportunity for boys to learn about their faith."
Mel explained that several levels of learning would most likely be included in the religious program dependent upon the scout's age. Incorporating Diné culture and Native American Church elements into Boy Scouts might be a way to instigate and maintain boys' interest in their culture.
"Maybe we'll get medicine men out of this. This is leadership, character building and something that will help our people survive," Mel said. "One of the leaders might say, 'Why don't you learn a protection song, go fetch water, get some wood. Our boys think of our sacraments, our teachings in the same sense that Catholic boys would think of going to church and communion."
Smith's son, Naakaii Nalaheh Smith is six years old and preparing to begin his first year as a Cub Scout. Naakaii has participated in Native American Church ceremonies since he was two.
"He knows what sacraments are in the Native American Church," Beverly said. "It's important for me for him to know his religion."
ABNDN Board of Directors member Richard Monroe and officer Carlos Begay expressed great support of Kin's efforts to design a Native American Church program and emblems.
"When I was young I was a Boy Scout and didn't have the chance to get this badge," Begay said. "I think it's important for boys to learn their traditional ways, their language, to respect nature and respect their spirituality."
Linda Burns, administrative assistant for David Richardson, BSA Religion Commission Advisor, said the BSA is in full support of the Native American Church award programs and emblems.
"We're very supportive," Burns said. "When a group gets together and decides they want to do this, we're here to support them and help them."
Beverly and Mel explained that various divisions of the Native American Church exist throughout North America and that Kin hopes to invite all members into the planning process.
The Hataali Association of the Diné Nation and Azee Bee Naghá of the Diné Nation are local, Diné segments of the Native American Church (NAC) of North America. Multiple NAC segments are currently active, and could join the movement to establish a nationwide symbol for the NAC.
"When the question came up of should we do this just for the kids in the Navajo Nation, I think it really hit home for Kin," Mel said. "He said, 'if we're going to do all this work, I want to add that other part. If no one has done it for 75-plus years for other boys, no one is going to do it.' I'm glad that my son has reached deep into it for millions of other little boys. We've visited so many medicine men's homes, many road men...the sacrifice this little guy makes is amazing, but I tell him, 'if you're going to be a leader this is what you have to do.'"
In order to establish the religious emblems and programs for the Native American Church, at least 25 separate Boy Scout units need to join the movement. Thus the families and local NAC, ABNDN members are attempting to share their plight with as many NAC members across the country as possible.
Their next planning meeting will be held from Noon to 5 p.m. (MST), Monday, Aug. 13, at Leupp Chapter House. For more information or to pledge support call Mel at (225) 505-2894 or email her at floridanavajo@juno.com. Beverly can be reached at (928) 526-5345. All members and affiliates of the Diné Hataalii Assoc. of Diné Nation, ABNDN, NAC of North America, and Boy Scouts of America are encouraged to attend the facilitation meeting to create requirements and the religious emblem for young Native American boys participating in Boy Scouts of America. Medicine men, medicine women, participants, members, officers, Board of Directors, Executive Officers, and community members are encouraged to attend. Lunch will be served at Noon. 
Additional information about ABNDN can be found at http://abndn.com/index.htm.