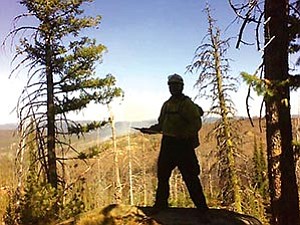 Originally Published: August 8, 2007 11:33 a.m.
TAHLEQUAH, Okla. - If you have ever dreamed of fighting fires, or have a desire to help people and the environment, the Cherokee Nation has an opportunity for you as a Cherokee Firedancer.
The Cherokee Firedancers program is currently recruiting for the 2008 season.
"The Cherokee Nation Firedancers program began in 1988 and became the first tribally affiliated firefighting crew in the state of Oklahoma," said Mike Weaver, administrative assistant. "Since its inception, the Firedancers have built an outstanding reputation throughout the United States for their skill and dedication to not only fighting large fires but also for search and rescue."
Applications are now available. Applicants must be at least 18 years of age, be a member of a federally recognized tribe, able to pass a physical exam and must complete an application.
Upon completion of the application process, a Pack Test will be scheduled, which consists of a three-mile hike that must be completed in forty-five minutes while wearing a forty-five pound weight vest. Applications will be taken until Monday, Sept. 14.
Firedancers are on call at all times and may be deployed to any part of the country where a need may arise.
Deployments can last from two weeks to 21 days.
Depending upon the location and facilities, the Firedancers will either camp outside or be placed in living quarters. Meals are provided and a commissary is available for personal needs.
"In the past, the Firedancers have been dispatched to several fires in Oregon, Colorado, Virginia, South Dakota, Utah, North Carolina, Florida and Georgia. In addition, the Firedancers have been commended for their help in the 2003 search and discovery of the Space Shuttle Discovery in Texas, as well as for providing aid during the relief efforts of Hurricane Katrina in 2004," said Weaver. "This program has been very successful and participants have received high praise from the U.S. Forest Service, the F.B.I. and NASA for their skill and tireless work during their services. This is an amazing opportunity and I would encourage all interested parties to complete the application process."
For more information or for an application contact Leroy Wolf at (918) 453-5335 or Mike Weaver at (918) 453-5334.