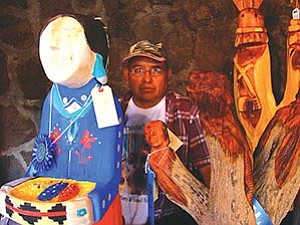 Originally Published: August 7, 2007 6:23 p.m.
FLAGSTAFF-At least 77 Navajo artisans and craftspeople as well as dozens of exhibitors and performers were on hand for the 58th Annual Festival of Arts and Culture held Aug. 4 and 5 at the Museum of Northern Arizona in Flagstaff.
Museum Director Robert Bruenig summed up this year's show with a very interesting and valid observation.
"If you really look at the whole show, you will see a range of traditional arts as well as contemporary," Bruenig said. "It is very exciting to us to see people going in new directions with traditional mediums. This is a great opportunity for people to see the full spectrum of Navajo art," Bruenig added.
"This is also reflected in the performances-music, dancing, demonstrations. Here too, one sees the blend of tradition and contemporary from the Pollen Trail Dancers, a film by Bennie Klain, Navajo storyteller Larry King, to the band, Blackfire. This collaboration shows that the Navajo culture is dynamic and changing-with themes rich in contemporary and traditional inspiration. Visitors will get a very nice view into the many forms of Navajo expression from this year's show."
Bruenig concluded that the whole intent of the annual event is to build respect.
Many of the exhibitors this year demonstrated the incorporation of tradition and contemporary inspiration in their work referred to by Bruenig.
This year's event was the second for Melvin L. John, from Tuba City. Though John did not place in the MNA event, his work was festooned with awards from other juried exhibits, including the Red Earth and Eiteljorg events. He specializes in acrylics, metal and clay.
"I like adding sand texture with acrylic," John said of his work on display. "I also enjoy painting the Yei bi Cheii dancers. I add my own colors and impressions to depict how I feel about my culture. I look at the sacredness of color."
An example is the colors representing the morning and evening in the Navajo cosmology.
"This is when the spirits come around; we pray in the morning and the evening," John said. "I use these colors in my work. My mother is a weaver, and I incorporate images from her work. I include images of corn as well."
John started out using pencils in junior high, but progressed through ink and watercolor, finally settling on acrylic. He has used this medium for the past three years.
"I always bring something new to my shows," John said. "My work is always changing."
John's skills have passed from his grandfather, an accomplished blacksmith who served his community by repairing wagon wheels, making spoons and other items. His brother, Alvin, took the Spirit Award and a first place ribbon in the Sculpture category for his "Four Season Blessing" sculpture, and second place in the Fine Arts category for his painting entitled "Rainmaker God." Brother David K. John took two honorable mentions in the Sculpture division for a cast glass mask and a ceramic relief wall hanging.
Harry Benally (Sheep Springs, NM) collaborates with his wife, Isabell, to create his carvings-many under his "Diné Lady" business name. Benally is a carver and jeweler who gathers much of his own wood and stones. Isabell's contribution is the brightly colored paint that brightens some of Benally's carvings.
Benally's sculpture, "Harvest of the Corn," which took first place in the Folk Art/Cultural Art category, was carved from aspen wood he collected north of Gallup.
Harry credits his late mother's weaving skills in teaching him a sense of design, patience and keen attention that has served him well. She also serves as the inspiration for his "Diné Lady carvings.
Benally also works with cedar, cottonwood and juniper. The patterned hues of the linseed oil-polished cedar truly demonstrated Benally's feel for the wood. It is impossible for him to know in advance that a carving might exhibit a honey-colored nose and deep blood red eyebrows, for example.
"I have to look at the wood and the shape of the log," Benally said. "I always start out by planning where the woman's bun (tsiiyéél) will be. I have to decide the way the hair will lay."
Harry is also well-known for his hand-carved Nativity scenes-which will be featured in the November issue of Native People magazine.
"I work in the old traditional style," Benally said of his stunning jewelry. "I cut my own stones and polish them myself."
Lifting a carving of a small ram, Benally explained that he had collected the alabaster it was made from in Utah.
The Benally's son, Aaron Wayne, received an honorable mention for his own "Navajo Lady" carving.
Shonto Begay is a popular figure at the MNA Navajo Festival throughout the years, and regular customers have noticed his growth. His most recent paintings are looser, more colorful somehow. He still paints his now-famous pick-up truck scenes captured from the vantage point of somewhere behind, stuffed with passengers, but his work is largely biographical.
A visitor to Begay's booth points out a painting of a man talking on a cell phone from the tailgate of his truck.
"I call that one 'Seeking Clarity,' Begay smiled. "I find myself seeking clarity."
Another painting shows a hand reaching towards an Anglo woman beneath the shade of a juniper tree. Begay explained that he had come across a young woman one day who had been abandoned somehow along a highway.
"I asked her if she needed help," Begay explained. "I reached my hand out to her. She was clearly afraid, and when I pulled my hand back, I cut it on the barbed wire fence."
The sight of the blood, a sharp contrast to the warm earth brown of Shonto's hand in the painting, broke the young woman's tension, and she came out of hiding.
Begay's work also includes picnic and festival scenes, visions of people meeting, dancing, enjoying life. The fact that he clearly shares his own personal view of the world distinguishes his work.
Begay leaves his booth under the care of one of his children to stroll outside and listen to the music of Blackfire. This high-energy band made up of siblings Klee, Clayson and Jeneda Benally was clearly a crowd-pleaser. The three are well known at the MNA as the Jones Benally Dancers-headed by their father, Jones. This year, the young performers stepped out of that role, taking a healthy dose of their tradition with them.
Jones performed the hoop dance, and then added traditional vocals to the contemporary rock of his children.
Klee shared the efforts of 13 Arizona Native American tribes to stop the desecration of the nearby mountain, the San Francisco Peaks.
"The developer of the ski area wants to use 180 million gallons of reclaimed waste water to make snow," Klee said. "Even though we have evidence of global warming, they still want to do this. We are not against skiing, we are not against snowboarding. What we are opposed to is the disrespectful use of a sacred site. Our goal is the building of healthy communities."
Rugweaver Melissa Cody was a bright spot among the more solemn hues of traditional rugs on display at MNA. She is 24, and from the community of Leupp.
"I like my rugs to have a lot of depth, my designs have a lot of movement," Cody said of her work. "I like a bright color palette-I do work under the revival style, but I like a contemporary look. My work is reflective of my personality."
She said that she has always admired the fact that Navajo weaving has always reflected the style of the women who practice it, that they have been innovative.
"I want my rugs to be pleasing," Cody said. "I want to be able to do something I am proud of, using colors or techniques that I can explain why I used them-not just do something where I would have to say, 'because that is how it is always done.' I believe my weaving should be deeper than that. What's the use of doing something if there's no purpose in it?"
What indeed? Each Navajo artist demonstrated their own sense of purpose-and their place in the contemporary world, grounded by deep roots of tradition-throughout the Navajo Festival of Arts and Culture.