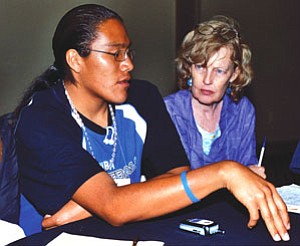 Originally Published: April 25, 2007 10:55 a.m.
NEW ORLEANS, La.-Seven radio students from Hopi High learned more about radio and formed partnerships while attending the 32nd Annual National Federation of Community Broadcasters conference held April 11-14 at the Sheraton New Orleans.
The students had a roundtable meeting with representatives from National Youth Radio (NYR) out of Berkeley, Calif.
The Hopi High radio students on the trip were Traci Talahytewa, Emma Thompson, Tracey Tewa, Deanadra Shepherd, Stacy Koinva, Paul Quamahongnewa and Felix Poleheptewa.
NYR personalities included director Ellin O'Leary, field producer Brett Myers, and externship coordinator Kareem Chadly.
Chadly told the Hopi High radio students that NYR was looking to use youth radio to train students for jobs whether it was in radio or other careers.
"We look at the job market and see what types of skills students need in order to get jobs," he said.
Chadly asked the Hopi High radio students what they would like to file radio stories about. Here's what they said: Poleheptewa, teen pregnancy and stereotyping; Koinva, stories about life; Thompson, dealing with family deaths; Tewa, drugs, alcohol and the dropout rate; Talahytewa, sports and meth; and Quamahongnewa, water and keeping Hopi traditions alive.
O'Leary responded that radio can be used to document the Hopi language. "The question is: How can recordings have a positive role on language and culture?" she asked.
In a later meeting, KTNN Navajo Nation radio station Manager Jay Allen urged the Hopi High students to send them the "word of the day." This 15-second segment would translate an English word into Hopi and then use it in a sentence. KTNN is a Navajo radio station that is part of the Native Broadcast Enterprise entity in Window Rock.
Terry Taplin, an award-winning student poet fromBerkeley, spoke about doing stories about surgery and addictions because those were the issues that he went through.
Chadly said a lot of good can come through partnerships, but urged the students to make certain that they were using radio to empower people to tell their stories.
The Hopi High radio students also met with John Barth from PRX.org, Bruce Theriault from the Corporation for Public Broadcasting (CPB), June Fox from DEI, Burt Poley from Native Voice 1 and Loris Taylor from Native Public Media.
The Hopi High radio students also talked about setting up partnerships with Tohono O'Odham Station Manager Sial Thonolig and University of Connecticut radio station General Manager John Murphy.
Barth, managing director of PRX.org, said meeting with the Hopi High radio students was the highlight of the NFCB conference for him.
"I thought the kids were just fantastic-typical teenagers on one level, but very engaged, articulate and passionate about what they're doing," he said.
Barth noted that Talahytewa and Poleheptewa told him that they enjoyed doing first person pieces with their friends. He gave them pointers on how they can follow up on these types of stories. Barth also praised Poleheptewa for his work on the PRX.org editorial board.
Taylor, executive director of Native Public Media, noted that there are 33 Native American radio stations in America today, but with 562 tribes she feels that is not enough.
"We want to see [more]," she said. "Unless your voice is at the table, no one will hear you. You need to be involved."
Taylor said broadcasting is an exciting field, but she pointed out that other jobs are available in radio including management, engineering and fundraising.
Taylor said the Native Public Media along with the Arizona Broadcasters Association, KTNN and the Northern Arizona University College of Communications would offer a radio camp this summer at Northern Arizona University. She said five seats are put aside for students from Hopi High and hopes that they will sign up soon.
Theriault, senior vice president of radio for the CPB explained to the Hopi High radio students that CPB is funded by Congress to in turn fund radio stations including KUYI, but that it also funds other radio entities such as Native Voice 1 and PRX.org.
Dwayne Breashears, a New Orleans radio personality, spoke about how less youth voices were being heard in New Orleans since Hurricane Katrina. He said many had left New Orleans and those who remain often don't have the time.
Breashears said the New Orleans station, WWOZ, remains to celebrate the culture. He said after Hurricane Katrina many people turned the radio on for news, but many turned it on to listen to music or to be entertained so they could get away from the news. So, broadcasting became a balancing act.
Dick Brooks, national radio trainer, taught the students how to do mind mapping. This strategy gives newscasters a way of coming up with story ideas or angles for approaching a story.
Traci Tewa, a senior radio student at Hopi High, asked how students can be taken more seriously when they ask adults questions for stories. Brooks responded that adults will usually help, but are more likely to do so if the students ask neutral open-ended questions.
"You're equal to anyone. You have the right to ask questions, [but] you don't have the right to ask judgmental questions," he told Tewa.
Brooks said if students don't understand something they should ask about it a second or third time until they get it straight.
June Fox, director of DEI Station Relations, said the student broadcasters seemed excited to be at the conference and it was wonderful to see the next generation walking the halls, talking to others and learning skills that they will put to use right away.
"I saw the sparkle in their eyes. I saw genuine interest in their work. I'm looking forward to hearing more from them in the future," she said.
Fox said the students were concerned about preserving their tribal language. "They helped me to understand what may and may not be possible and I appreciated their openness," she said.
DEI is a non-profit organization that works with public and community radio stations throughout America to provide information, advice, tools and techniquesfor efficient fundraising.
The Hopi High School radio students thank those who funded their trip. The trip was funded by contributions from Cheryl Halpern from the Corporation for Public Broadcasting, the Hopi Foundation, Hopi High School, June Fox from DEI, Mark Dioguardi from Friends of Public Radio Arizona, John Ong, and the Navajo Hopi Observer.