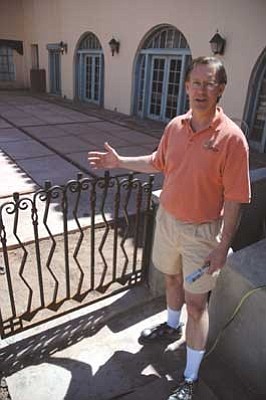 Originally Published: April 18, 2007 4 a.m.
All their friends thought they were crazy. Most of Winslow thought it could not be done, but gave them support anyway. It has been rough like a long trek on the land it was built on. Mary Colter's vision and revival of La Posada has been the greatest adventure of their lives, said Winslow Mayor Allan Affeldt and his wife Tina Mion. They recently celebrated the revived La Posada 10-year anniversary ­ since the BNSF Railroad handed over the keys to the magnificent hacienda hotel. They moved in on April 1, 1997.
Affeldt and Mion have accomplished much since those days when they drove out here on a whim and a vision. They said if it were not for Janice Griffith, Marie LaMar and the Gardening Angels and later the La Posada Foundation, this centerpiece of Winslow might have been lost.
At the time, Mion thought of their life move as being just another one of to her husband's crazy ideas.
"And it was a crazy idea. It was an absolutely insane business proposal, but it worked and it has turned out to be a wonderful thing for the community," Affeldt said.
Affeldt and Mion said they were considering other projects at the time, but La Posada was a unique crown jewel of historic significance that could not be denied.
Winslow invokes La Posada's revival
Winslow was once a bustling town of many great shops and many restaurants. People who can remember had great pride in what their town once was. This was the vision 10 years ago: to bring downtown back and make it a source of pride once again. La Posada was to be the beginning of Winslow's downtown Renaissance, but 10 years later it seems Winslow has not been able to follow La Posada's lead.
By the late 1980s, the Santa Fe Railroad wanted out of La Posada and offered it to the city of Winslow for one dollar. The City denied it. A few years later, Santa Fe asked the city of Winslow if they wanted to trade city hall for the La Posada. Council still did nothing as they and much of the community saw Colter's vision as too large of a burden.
By this time the La Posada/Santa Fe greenhouse was bulldozed and Winslow residents thought that the hotel would soon be next because the railroad would not want to keep paying the utilities on such a historic building.
Griffith was responsible for registering La Posada as historic, and later founded the La Posada Foundation. With LaMar they fought to do all they could to raise support for the hotel. Griffith put out a plea in The Reminder and over 50 people turned out to volunteer to help tend to and water the La Posada gardens to keep them from dying while they tried to find a way to save the hotel.
Griffith and LaMar had found a friend in Don Ryden, an architect interested in historic structures. After he was sent to do the analysis of La Posada for the historic register, he helped the La Posada Foundation write a grant that they received ­ a $500,000 of Inter-modal Surface Transportation Enhancement Act (ISTEA) fund. The state considered La Posada third most deserving of this funding that year.
The $500,000 in ISTEA funding required the City of Winslow to match it with $125,000, but the city had no money, so they formed a steering committee to find more funding to save the hotel.
It was discovered that the ISTEA funding was in reimbursement payment only and not an up-front grant, so including the $125,000 required match, Winslow needed $625,000 that it did not have to buy and help restore La Posada.
Enter Allan Affeldt
Since the City did not want responsibility for La Posada, those who did stepped in. In June of 1994, Allan Affeldt, then the chairman of EOS Institute in Laguna Beach, Calif. inquired with Tommy "T' Thompson, then director of the Winslow Chamber of Commerce about La Posada being a registered historic structure in danger of being lost. EOS was a think-tank for educating architectural professionals and communities about the potential for environmentally and socially responsible development.
"Something on this scale will have to be straight commercial financing. This is why we need the architectural and engineering studies," Affeldt told Winslow Mail in '94.
So the City gave Affeldt full negotiating authority to deal with the Santa Fe Railroad. The City also agreed to give Affeldt ownership of the property since he would attract investors. The City even gave Affeldt the $500,000 ISTEA funding obtained by the La Posada Foundation.
The $500,000 and any other ISTEA funding from the federal government must be channeled through a government agency or city government to be legitimate. Affeldt offered the additional $125,000 matching funds to receive the ISTEA $500,000. Since the City had no money, they agreed to pass the ISTEA through to Affeldt; making it his project.
The La Posada Foundation and the City supported Affeldt in doing this. With the assistance of a friend, Affeldt put up the money needed to begin renovations on La Posada in 1996.
In those two years, Affeldt had negotiated La Posada's purchase from the railroad during two major railroad mergers and the changing of three city administrators in Winslow. Griffith, LaMar and other concerned Winslow residents held their breath in hopes that this gem of Winslow could be spared, and Affeldt pulled it off like no one else could or was willing.
Jan. 16, 1996, Affeldt with his local match of $125,000 gave the city of Winslow a check for a total of $158,000 that was passed through to the City then to the railroad for Affeldt's acquisition of La Posada and surrounding acreage.
Since the acquiring La Posada 10 years ago, Affeldt has written two additional $500,000 ISTEA (later called TEA-21) grants to bring in an additional million dollars in federal funds and millions more in private investments to create something for Winslow and northern Arizona of a quality, style and class not seen since those days of Mary Colter and Fred Harvey.
On this last $500,000 grant he wrote to do the La Posada Gardens, Affeldt matched it 50/50 with $500,000 of his own money, above the $125,000 minimum requirement.
The federal TEA-21 grant money must be passed through the city of Winslow budget reports and is why it looks like the City is funding the "La Posada Gardens Project," but the money is from a grant Affeldt wrote himself.
The city of Winslow has written their own $500,000 TEA-21 grants too for things like Downtown Renaissance Phase III, II and the Phase I First Street Pathway Park project that ran over to be a $1.2 million.
"I am spending almost a half million dollars to match a grant for this gardens project," Affeldt said. "Look what his been done here in front of La Posada and for less money than was put into the First Street Pathway that nobody goes to. Everybody is going to be able to see these gardens to enjoy it."
Giving Needles, Calif. a chance
Needles was once a bustling town of many great shops and many restaurants. People who can remember had great pride in what their town once was. This was the vision 10 years ago: to bring downtown back and make it a source of pride once again. El Garces is to be the beginning of Needles' downtown Renaissance, and 10 years later it seems Needles is wanting to follow La Posada's lead.
Along I-40, the Colorado River and a railroad track where the BNSF cut many jobs, the town of Needles, Calif. with a population just over 5,000, has experienced much of the same hardship as Winslow, and still does.
Along those tracks sits the El Garces Hotel, an old Harvey House abandoned by the railroad just as La Posada was. Concerned women of Needles got together with the city of Needles and purchased the building for $130,000 to try an save it from further vandalism and dilapidation.
The city of Needles invited Affeldt to be a consultant on the El Garces Hotel renovation with an option to purchase and operate. Affeldt and his wife Tina attended the groundbreaking ceremony on March 7, 2007 to begin the El Garces project. Dan Lutzick, Snowdrift owner/artist and a La Posada business partner in Winslow since they re-opened the doors here, will be traveling back and forth from Winslow and Needles to consult the restoration project at El Garces. Lutzick like Affeldt, Kieth Mion and Glenn Blake, has put in many sweat hours to help pull La Posada up to become profitable.
Affeldt and his wife say they prefer to remain in Winslow at La Posada.
The people of Needles said are excited about the El Garces re-opening and said they appreciate what Affeldt is offering them since it will benefit the community.
"Hopefully this will be a money maker and incentive for Needles to grow and become a destination for many visitors," said Bernice Morris, member of Friends of El Garces and member of the Needles Regional Museum. "We hope that downtown will grow and become like what it used to be."
*Editors note: This story was substantiated from numerous stories about La Posada spanning at least three different reporters and five years ('93 ­ '97) archived in the Winslow Mail.
More like this story