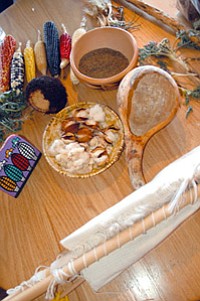 Originally Published: April 10, 2007 3:41 p.m.
WINSLOW-Though the lands around the Hopi Mesas, Little Colorado River, and Melgosa Desert which follows the river from Winslow to Cameron, seem tough and barren, the tribes of this area used to find abundance in those things we now take for granted.
Homol'ovi Ruins State Park hosted a Hopi ethnobotany and medicinal plants workshop last weekend to teach interested locals how to identify native plants in the area for a variety of purposes. The Hopi, whose traditional lands encompassed this entire region, harvested many things like wild carrots, wild onions, wild parsley, yucca, currants, purslane, teas and spices to go with their staple of maize or corn. The Hopi hardly ate meat of any variety at all, according to the guest speakers
Micah Loma'omvaya, Max Taylor and Donald Dawahongnewa shared their traditional knowledge with those at the event. Dawahongnewa spoke of the Shungopavi village spoke of the many varieties of corn and how they are to be planted in respect to Hopi tradition. The Hopi do not water their crops and depend only on the clouds of this arid region to sustain their harvests.
"It depends on the person who is in the fields and what is in their heart," Dawahongnewa said. "Raising corn is like raising children. The more attention you give them, the better they will grow."
Taylor spoke about the native plants of the area.
"Many people have forgotten how they look, but there has been a revival of interest in this recently," he said.
Loma'omvaya said that since native plants in an ecosystem have evolved together and are sensitive to one another's existence, it is important people consider that when dealing with what they think are noxious weeds.
They said nothing could be done with camelthorn and tamarisk, which plague the area, especially along the Little Colorado River. These invasive species have seriously harmed the balance of the native plants that used to grow along the river like the cottonwoods and grasses that are in their last days now unless nearby communities are able to take drastic measures to improve the dying riparian areas.
Hopi farmers will be at Homol'ovi Ruins State Park this Saturday, April 14 from 10 a.m. to 3 p.m.for a hands-on dry farming workshop. The park is located just outside of Winslow a few miles north on Highway 87 towards the Hopi mesas.