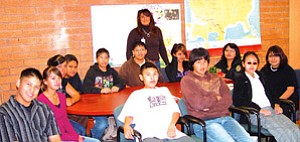 Originally Published: April 3, 2007 3:14 p.m.
TUBA CITY-Constance Benally, a Tuba City High School teacher, is working to achieve certification by the National Board for Professional Teaching Standards (NBPTS). In order to earn certification, Benally is completing various projects with the help of her students.
The first project entailed the help of students in Social Studies-History, Early Adolescence.
Benally created lessons to foster student achievement using writing to teach reasoning and videotaping instruction to foster civic competence and social understanding. These lessons will be evaluated by the NBPTS. They will be reassessed in June and results will be received by November.
According to Benally, dedication, commitment and discipline were needed to finish this project.
"This has been a process and very time consuming, especially examining your teaching methods and practices to foster student achievement-basically putting yourself out there with teaching methods and practices," Benally said.
Today more than 55,000 teachers are National Board Certified. As leaders in their schools, they are in unique position to transform teaching and learning. National Board Certification is supported in every state by school districts, principals and community and political leaders who believe that quality teaching leads to improved student learning.   
Pictured above are: (from left) Emileo Begay, Julio Trejo, Courtney Jim, Shelbi Hatahlie, Ashley White, Dorothea Riggs, Chish Montoya, Constance Benally, Cordelle Claw, Bavatya Dawavendewa, Darion Kootswatewa, Judy Throsell and April Tracy.
More like this story