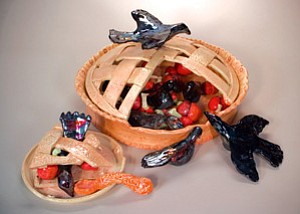 Originally Published: April 3, 2007 5:17 p.m.
FLAGSTAFF-This year, a 3-D ceramic interpretation of the popular children's song, Sing a Song of Sixpence, will represent Palette to Palate.
Palette to Palate is the largest annual fundraising event for Coconino Community College, and features student and local artwork up for bid and artistic delectable creations from local chefs. It is scheduled from 5 to 8 p.m. on Friday, April 27 at the Coconino Community College (CCC) Lone Tree Campus.
Artists Suzanne Botello and Sondra Francis created the playful piece with stoneware cherries and raku black birds popping out of a huge pie. "The separate parts of the work are interactive, inviting the viewer to move and place them at whim," said Botello.
Botello is a CCC career counselor, artist and student whose medium of choice is clay. She makes Italian Majolica utilitarian pottery and currently is making very large platters and bowls decorated with carving, drawing and color.
Francis is a student, a patron of the arts and an artist. She creates wearable jewelry from the earth, using natural gem materials, precious metal and cultured pearls. Her ceramic work is primarily sculptural and she is known for her primitive and expressive raku animals.
The ceramic pie will be among the original artwork up for auction. Tickets are $25 ($15 for students) and may be purchased through the CCC Fine Arts Department or the CCC Foundation Office. Proceeds from the fundraiser will benefit fine arts students with scholarships, travel, supplies and studio equipment. For more information, log onto www.coconino.edu.