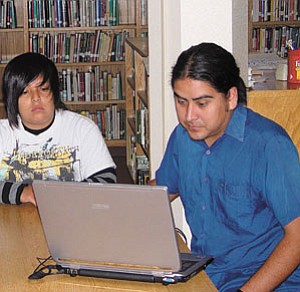 Originally Published: September 4, 2006 6:44 p.m.
TUBA CITY -Since 2000, the Grand Canyon Music Festival through its Native American Composer Apprenticeship Program (NACAP) has sought to develop musical literacy by enhancing critical thinking and decision-making skills through the study of music composition.
Mohican composer Brent Michael Davids was the first composer in residence for the GCMF program. Davids was followed by David Mallamud, Jerod Impichchaachaaha'Tate (Choctaw), Raven Chacon (Navajo/Hispanic) and Adam Overton.
Native American high school students are able to work with these professionally-trained composers as an introduction into European classical music techniques and to develop their own understanding of how to incorporate their own Native music heritage into a contemporary composition.
The NACAP program nurtures musical talents of Native American high school students, which could prepare them for formal study at the college and conservatory levels.
Raven Chacon, originally from the Chinle area, has a Masters of Fine Arts in Music Composition from CalArts, Valencia, Calif., and is serving as 2006 NACAP Composer in Residence working with students from Tuba City High School and Kayenta-Monument Valley High School.
Chacon also has a bachelor's in music from the University of New Mexico-Albuquerque and has worked as a performer, composer and recording artist in Europe, Canada and New Zealand.
Chacon has toured the U.S. as a solo artist and lists musical commissions from the University of Mary Washington and the National Museum of the American Indian in Washington, DC.
His musical work can be found on major independent labels, Innova and EMR. In addition, Chacon was a visiting professor and composer-in-residence for the University of New Mexico who taught the Indigenous Experimental Performing Arts and American Indian Art History for graduate students.
Other works by Chacon include production assistant on "Monster Nation"-Discovery Channel.
Although Chacon is a young Native composer, age 28, he is wise to "artistic discipline" and had much to say to his young apprentices during his two-week residency.
"I believe it is important for these Native students to learn all modern musical languages and situations that they may find themselves placed in. I believe that every serious musician should understand musical notation and more importantly, the music of their Native family tradition. I think it's especially critical to work hard and not waste time watching television. Call up your band and practice, don't waste your money on junk, take your band on tour."
Chacon was originally interested in music and composition because he was always in bands as a young student himself and because he says, "we weren't very good at our instruments and the music just seemed to get noisier and noisier, but it was also getting more complex, but I knew I needed formal training to be more effective. I was inspired musically by my Cheii (grandpa), heavy metal music and the Beatles."
The Grand Canyon Music Festival's NACAP program is sponsored by the Ann Stephens at the Compton Foundation, Arizona Public Service Foundation, the National Endowment for the Arts and The Western States Arts Federation.
The final NACAP student compositions by the area reservation school participants will be presented in two weekend concerts during the regular Grand Canyon Music Festival September season. For ticket and concert information call 800-997-8285.