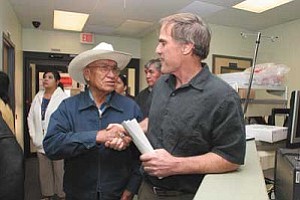 Originally Published: November 29, 2006 4:01 a.m.
Winslow Indian Health Care Center held a dedication, tour and lunch for friends, family, board members and the public to see the new Urgent Care/Medical Records center they opened on Oct. 24.
The Urgent Care center is an emergency room facility that will serve tribal members in the southwestern area around the Navajo Nation; however, they only have their doors open from 8 a.m. until 11 p.m.
To state what many may not have known by most people in Winslow because most refer to the local Native American hospital as IHS ‹ the WIHCC is not Indian Health Services, though the old WIHCC building was once an IHS facility.
In 1975, President Gerald Ford continued on the work of the previous Nixon Administration to extend more sovereignty rights to Native American tribes. Part of this action created the Indian Self-Determination and Education Assistance Act, P.L. 9363, that allows tribes to choose to either keep IHS services, contract IHS for services or partner with IHS for providing health care services. WIHCC is a tribal operation that administers the WIHCC.
Many WIHCC board members and staff were at the new Urgent Care building, located in the back or on the south side of the main WIHCC building.
"When I was in Rockland, Maryland at the IHS headquarters, I saw a picture of this Winslow Indian Hospital in their offices," said Jerry Freddie, a Dilkon Chapter council delegate for the Navajo Nation.
Many there that day recalled experiences they and their families remember from the old historic hospital building, but the new Urgent Care facility is state-of-the-art, and more representative of the direction WIHCC administrators would like to go.
"The level of diagnosis and level of care are important to the Navajo people," Freddie said. "Also important is that we seek more resources and expand our resources in Winslow because there is much progress here."
Freddie said he and the WIHCC board members are glad the federal government accepted their Needs Assessment Documents for building a larger health care facility in Dilkon. He also plans on communicating with Congressman Rick Renzi (R ­ AZ), to federal money can be brought in for the design of the proposed Dilkon facility.
When WIHCC began looking into designing their Urgent Care/Medical Records building, they took the common sense approach and asked the nursing staff to give their recommendations for its layout and design.
WIHCC Nurse Executive Valerie Kelly was a principal participant in designing the Urgent Care center. She gave a quick tour of the high tech area that has seven beds with modern equipment and glass doors. By having the people who work in such a department be able to design it made more sense as it allowed for better security, patient flow and ability to monitor them, and increased the overall productivity.
The old WIHCC emergency room was a 12 x 25 area in the old hospital that was barely big enough to fit three beds that were separated only by a curtain.
The new building has a nurse station in the center of a room that looks out into each individual patient rooms with glass doors that can be easily moved. On the ceilings, there are huge flat screen monitors that display exterior and interior views. Kelly said that the nurses recommended changes to the ambulance bay to make patient delivery easier, and if they need to it can be lock-down in case of an emergency.
WIHCC Director Sally Pete said that they began the process to get this facility about two years ago because the old emergency room was too small and that affected the quality of patient care.
WIHCC serves a population of over 15,000 and the Dilkon area is the fastest growing in that region of the reservation. Pete said once they get the Dilkon health care facility, it will be bigger that the WIHCC and will have a 24 hour emergency room.