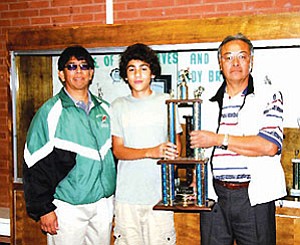 Originally Published: November 28, 2006 12:15 p.m.
TUBA CITY - Two outstanding Tuba City district athletes are being recognized for their achievements in cross-country. Chris Holve, son of Dr. Diana Hu and Dr. Steve Holve, ran the race of his life and captured the Arizona state individual cross-country championship for 2006. Holve, of Chinese-Anglo descent, is also an academic high-achieving senior at Tuba City High School and was born and raised on the reservation,
Younger TC district athlete, Bill Orman, an eighth-grader, is the son of TC district teacher Maria "Teresa" Orman and Dr. William Orman. Orman, of Hispanic-Anglo descent was born in Baltimore, but was raised in Tuba City and even more miraculously, just started his young running career this school year, capturing the state cross-country championship title at the junior high level.
Both of these outstanding athletes praise not only their supportive, focused running coaches for their success, but value parental participation and the support of their entire community as secrets to their own individual discipline and motivation to win.
Holve, under the tutelage of former Arizona cross-country champion John Goatcher, is only 17 years of age and has been running in school and community meets since he was in eighth grade.
Holve said Coach Goatcher, "...was so supportive along with Coach Carl Perry, they both just continued to encourage and inspire me [and] showed me strategies on how to get ahead at the start of the race and how to maintain that edge. Coach Perry was pretty excited after I won the state race…he just hugged me and said, 'I knew you could do it.'"
Holve, said that even though he won as an individual, he could not have gotten this far at the state level without the support of his team members.
"I beat Rick Worker of our own team twice this year, but he beat me four other times, so Rick was pretty important in helping me understand outsider school competition. I don't think I would have been able to win the state meet, if I hadn't had that local competition from my own teammates. They also motivated me to get out there and run every day, I want to thank them all, especially Coaches Perry and Goatcher, and my parents, who have been behind me all the way."
According to TC Coach Goatcher, Holve ran with incredible determination and motivation. "He ran smart, hitting his prescribed split times nearly perfectly. Coming into the final stretch towards the finish line, I've never seen Chris so loose and relaxed. This was in complete contrast to his struggling competitors whom he left behind."
Holve's final time at the state meet, 16:17 at a 3.1-mile course, allowed him to be selected for the extremely prestigious "All Arizona State Team."
Holve placed sixth out of 803 runners from all levels who qualified to run at the state championships. He also made the All 3-A State Team and the All 3-A North Region Team. Tuba City is very proud of him.
Holve and fellow TC High teammate, Rick Worker have also been nominated to the Navajo Times All Reservation Cross-Country Team and both will compete in the Foot Locker Race in San Diego, Calif. in December.
Holve now joins the prestigious ranks of four other Tuba City High School cross-country runners who have attained individual state champion status and have represented the Tuba City district as state champions. Holve will be immortalized along with runners Joe Nelson (1975), Herman Sayneyah (1976), and Andy Endischee (1982).
In addition to all the cross-country hoopla, Holve has also earned the designation of AP Scholar by the College Board in recognition of his exceptional achievement on the college level Advanced Placement Program Exams.
TCHS head counselor Karen Garcia made this announcement this past week after Holve took the Advanced Placement exam in May. Holve earned test scores of 3 or greater in three or more college level exams.
Holve's advanced placement performance will put him at an optimum status for selection of a college or university of his choice. Holve has indicated that Princeton is where he would like to do his undergraduate work.
Bill "Billy" Orman, age 13, is a first-time runner this year (in any capacity), which makes his new state individual title all the more astounding. Orman wasn't always interested in running but his Dad encouraged him and now he says, "I think I really like it."
The most difficult part of running Orman felt was "just training my body and telling myself to keep going."
Orman's coach, Arvis Myron of TC Junior High, would tell him, "[T]ry to get out in front, take the front runner and when you get the opportunity, take off."
Orman says he was "scared at first at the state meet, because there was another runner there that had beaten me before at the Mt. Elden meet by over 200 yards, and he beat a biker to the finish line at another race, so I was afraid he might be the one to get in front of me, but I did what Coach Myron said to do, and when I got the opportunity, I did take off."
Coach Myron says of his young state champ, "Through a systematic plan of training, Billy was able to pull off what most young school boys only dream of doing-winning a state title in cross-country."
Myron added, "We, meaning me and my assistant coach Sonia Rojo, had a plan that not just Billy followed but also his teammates, who [had] a respectable fourth [place finish] as an entire school team. I feel that Billy has not reached his full potential as a runner yet, because this was truly his first year trying it. If he continues, he will be able to realize just how good of a runner he really is and with more of this particular base training, his time at the state meet could actually improve."
"Billy has God-given talent, and with a strong commitment to a training plan and hard work, he can become one of our top runners in the state of Arizona in the next few years. At this moment, Billy is training to run in the USATF Region cross-country state meet next weekend, hoping to qualify for the Jr. Olympics USATF Region [meet] which will be held in Washington state this year."
"It has been an extreme pleasure to coach such a natural talent like Billy, and with his ongoing parental support, he will create his own destiny in the sport of running. We are all so very proud of his accomplishment that reflects well on our District."
For this entire running season, Orman has consistently placed first or second at every race. For more information about the cross-country champions at Tuba City District, contact the Tuba City District Office of Public Relations at 928-283-1072.