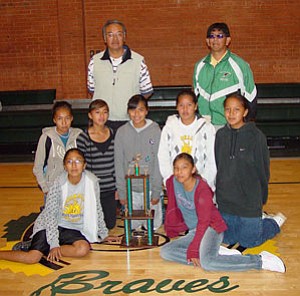 Originally Published: November 21, 2006 3:24 p.m.
TUBA CITY - The Tuba City Jr. High School Girl's cross-country team, led by coaches Arvis Myron and Sonia Rojo, had an overwhelming and successful running season prior to their new state championship win this past week.
Winning all but one meet this year, the TCJH girls' team placed second at the Kayenta Community School Invitational.
The eighth graders, who have been part of with the victorious state championship "Myron-Rojo Team" since sixth grade, exemplified a nice progression of training at TCJH and placed in the top 30 to win the state meet.
Head coach Myron stated, "I believe our eighth grade young women will have a big impact on the TC High School cross-country program in the coming years, provided they continue to train with a plan that will maximize their potentials. I felt we had a good chance to win and placing at the top when we won the Mt. Elden Invitational. There we had to run against the top schools around but our team did very well as a unit."
Myron also stated, "With the young women we had in our program, they were hitting the pace on the button and that is when I realized that we could possibly win the state title. I am so proud of all of them, its been a lot of hard work, and so much effort on each of their parts, my assistant coach Sonia Rojo and I want to thank their parents for their supportive efforts as well as our administration for providing the practice time and support for their program.
Places for 2006 Jr. High State Meet Cross Country are as follows: Eighth place, Allissa Dallas (14.10) 7th grade; 14th place, April Tracy (14.25) 8th grade; 21st place, Tatiyanah Johnson (14.35) 8th grade; 23rd place, Natalie Franklin (14:37) 7th grade; 40th place, Danielle Attikai (14:53) 8th grade; 45th place, Jennifer Williams (14:59) 8th grade; 95th place, Jonel Yazzie (15:53) 8th grade.
TCJH competed in several meets this year, including the following where they took first place in all but one category: Kaibeto Invitational, First place with 39 points; Kayenta Community School, Second place with 42 points; Page Invitational, First place with 37 points; Mt. Elden Invitational, First place with 43 points; T-Bird Invitational, First place with 37 points; Tonalea Invitational, First place with 34 points; Arizona state meet, First place championship with 98 points.
For more information about the TCJH state cross country girls champions, call either the Tuba City Junior High School and ask for either Coach Myron or Asst. Coach Rojo at 928-283-1055, or call the TC District Office of Public Relations at 928-283-1072.