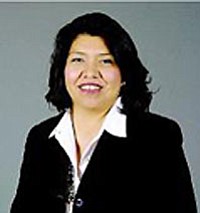 Originally Published: November 16, 2006 11:03 a.m.
WASHINGTON, DC - Navajo Tribal Councilwoman Hope MacDonald Lone Tree has been selected to serve on a select task force of women elected officials who are working to find solutions to address the growing epidemic of methamphetamine use nationwide.
Special attention is on women and children who are disproportionately affected by this epidemic and focuses on social model rehabilitation and recovery.
Councilwoman MacDonald Lone Tree, a member of the National Foundation for Women Legislators' (NFWL) National Policy Committee on Crime, Justice, Terrorism, & Substance Abuse, will discuss ways to implement the most effective treatment programs and protocols in the Navajo Nation Council to address the growing concerns surrounding substance abuse throughout the state and nationwide.
Councilwoman MacDonald Lone Tree will bring together other decision makers at NFWL's upcoming Annual Conference Nov. 16-20, in Avon, Colo. Legislative policy surrounding the nation's methamphetamine epidemic and treatment alternatives for methamphetamine dependent individuals will be the major focus of the conference agenda.
"This year, because of the booming epidemic of methamphetamine dependence affecting the nation, NFWL has devoted a significant amount of its annual conference to the discussion of solutions and policies with which to address this disease," stated NFWL's Chair-Elect, Missouri State Representative Juanita Head Walton.
"The alarming rate of methamphetamine dependence among women is a pressing cause of concern since many who are dependent are mothers.
"When a woman with children is addicted to methamphetamine, the toll on the family is incredible and the burden on social services escalates. I look forward to working with the other task force members to solve this problem in every state in this nation.
"We are going to control this spiraling wave of methamphetamine abuse so that we can all have piece of mind. We will find a way to provide more access to women who want treatment. I know that there are agencies in criminal justice that have adopted the treatment and I am really interested to see how legislators all over the country might be able to use this to address the growing epidemic of methamphetamine use."
"This annual conference meeting is about bringing strong women legislators to the table to tackle the tough issues," said Robin Read, NFWL's President and CEO.
"Councilwoman MacDonald Lone Tree is coming to the conference and serving on this Committee task force to work with leading issue experts so that she can disseminate this information to her colleagues and women legislators everywhere.
"Four years ago members of this same NFWL Committee dramatically changed thought on club drugs and partnered with the DEA to educate the public on the horrible effects of ecstasy and the culture of raves. This year, Councilwoman MacDonald Lone Tree will help to bring methamphetamine abuse to the forefront and ensure that the landscape for treatment is where it needs to be," Read said.
NFWL's annual conference is a provocative and engaging forum designed to encourage networking and build alliances among legislators from every state, foster an environment in which legislators share their legislation with their colleagues, provide opportunities through workshops and roundtables to discuss issues of concern in the states, and offer a place for state legislators to learn about industries' and associations' innovations, technologies and products and programs through presentations and exhibits.