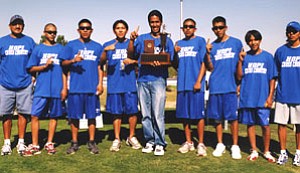 Originally Published: November 16, 2006 11:19 a.m.
PHOENIX - The Hopi High School boys crosscountry team set state and national records by winning its 17th straight state championship Nov. 4 at Cave Creek Park in Phoenix.
The National High School Hall of Fame contacted Hopi Athletic Director Rusty Robertson asking for a team photo and Arizona Varsity ranked Hopi High the top team in the state on all levels.
Hopi High Coach Rick Baker said winning another state title was awesome. "All of our runners ran well and it was a great team effort," he said.
Coach Baker said his one regret was that Matt Lamson didn't win the individual state championship.
"Matt could have won it, but he made his move too late," the coach said. "But when the team wins it takes all the other sorrows away."
Coach Baker said it felt good for the Bruins to win the championship for the fifth year in a row in 3A after winning their other titles in 2A.
"We had a little more of a cushion this year, but I still wouldn't call it easy," he said.
Hopi placed third at regionals this year, but came back to win state.
"I just tried to keep the kids focused. Last week, I think we were looking ahead. I just wanted to keep them motivated. I knew we had a strong team and they just had to perform today," Coach Baker said.
Hopi won the race with 51 points, Chinle grabbed second with 62, Ganado took third with 65 and Tuba City finished fourth with 115 points as the 3A North teams dominated the meet.
The other teams finishing in the 3A were Alchesay, fifth, 188; Holbrook, sixth, 224, Blue Ridge, seventh, 244; Fountain Hills, eighth, 246; Seton Catholic, ninth, 262; Payson, tenth, 272; Sedona, 11th, 276; Florence, 12th, 287; and Chino Valley, 13th, 296.
Matt Lamson was Hopi's top runner with a third place finish, but the Bruins packed its top six runners into the top 18.
The rest of the state championship team included Chad Baker, seventh; Kevin Rivers, eighth; Vonn Secakuku, 16th; Ronald Laban, 17th; Andrew Honyaktewa, 18th; and Jose Acevido, 95th.
Coach Baker will lose Lamson, Secakuku, Honyaktewa and Acevido to graduation, but he's not too worried.
"We'll have three [runners] back and we have a strong junior varsity, so we should be looking good in the 2A," he said.
"I wish the 3A good luck next year. We made them better the last few years and now we want to do that in 2A."
Lamson, 18, has been on the state championship team the past three years.
"Setting a national record is exciting and having our photo go to the National Hall of Fame is a bit different," he said.
Lamson said the Bruins ran a strong, hard race. "I could have done better than third, but I'm satisfied with my finish," he said.
Lamson, who will head to either Cornell or Texas A & M after graduation, will study computer technology.
"I want to thank all the fans, even the people who couldn't make it down here because they believed in us," he said.
Chad Baker, the coach's son, said winning the race was great as the Bruins ran to their potential.
He said he knew the team would win because they were more confident and mentally prepared this year.
"I didn't do as well. I was hoping to finish in the top three. I just wasn't surging. When the pack was in front of me, I should have picked up the pace," he said.
Baker, a junior, plans to go to Kansas State.
Rivers, a sophomore, said he was happy with the Hopi High state championship.
"The team did pretty good and ran to their potential, but I didn't run to my potential. I need to start moving more and I had trouble with my shoestrings," he said. "I'm going to have to work harder in order to do better next year."
Secakuku, a senior, said winning the state championship was great.
"I knew we could do it if we stayed in a pack," he said.
Secakuku has run for the state championship teams for four years. He praised the previous year's Hopi High runners who set the tradition.
"I'm glad we were able to carry on the tradition. The team ran well and did what we were supposed to do. I'm satisfied with the way I ran because I pushed myself.
I want to tell the other Hopi runners coming up to keep the tradition alive and keep going," he said.
Secakuku plans to major in architecture and welding at Mesa Community College.
Laban, a freshman, said winning the state championship was important to him.
"It felt good because it's what I wanted for so long," he said.
Laban said the Hopi High team performed well because they put a lot of work into it and ran with heart.
"I ran hard, but I was not satisfied because I know I could have done better. I could have pushed myself harder," he said.
Laban said he wanted to thank everybody, especially his teammates for pushing him.
"If not for my teammates, I wouldn't be where I am," he said.
Tuba City's Christopher Holve was the individual champion with a time of 16:23:55 with Ganado's John Bigwater second.
The top 28 runners are considered all state and received medals. The other all state runners were:
Rick Worker, Tuba City, fourth; Isaac Robertson, Alchesay, fifth; Kyle Whitehair, Winslow, sixth; Romero Curley, Chinle, seventh; Charlson Claw, Chinle, tenth; Cody Tsosie, Ganado, 11th; Andrew Belus, Seton Catholic, 12th; Chad Singer, Ganado, 13th; Torrey Bert, Chinle, 14th; Tyler Logg, Chinle, 15th; Benjamino Begay, Ganado, 16th; Ricky Attakai, Holbrook, 20th; Tyson Logg, Chinle, 21st; Kurt Nowak, Globe, 22nd; Carlos Lopez, Payson, 23rd; Cody Wells, Snowflake, 24th; Lance Williams, Tuba City, 25th; Darren Trainer, Blue Ridge, 26th; Glenn Sapp, Sedona, 27th; and Alvin Begay, Ganado, 28th.