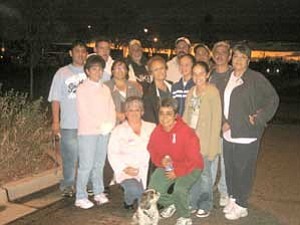 Originally Published: November 15, 2006 4 a.m.
Even though October was Breast Cancer Awareness Month, it is important to keep up with medical exams any time of the year. Doctors say that early diagnosis is the best way to avoid illness associated with breast cancer.
This was the message last month when Jeanne O'Haco and the Winslow Mail's Sandra Vasquez marched along side over 50 people, mostly women and daughters, but some men, too. This was the first walk of its kind in Winslow and those involved said they hope to see it grow in support next year.
They began at the First Street gazebo and walked together through downtown to the high school where a mobile mammogram-testing van was sent in by the Navajo County Health Department.
Vasquez said she has lost many close female family members to breast cancer and that many other women in Winslow have been affected similarly. All those in the march either knew someone who had lived or died from breast cancer or had it themselves or where there walking for someone that was too sick to be there.
O'Haco who is the head nurse at the Little Colorado Medical Center, said there is nothing known about why breast cancer is so common or what causes it.
She said doctors in Flagstaff have noted that Winslow has a very high rate of breast cancer that is disproportionate to other Arizona towns.
"The only thing I can think of is that many people who lived in this area when they were doing nuclear testing in Nevada, where exposed to atmospheric fallout," she said.
The Navajo County Health Department offers breast cancer screening. Call the Little Colorado Medical Center for more information at (928) 289-4651.