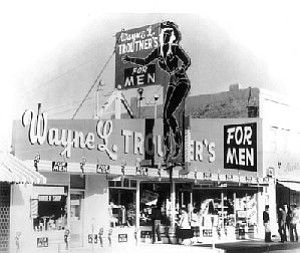 Originally Published: November 10, 2006 4 a.m.
A little neon can go a long way. That is what Lee and Floranel Earl, owners of Earl's Motor Lodge, discovered after having new neon sign art installed on their Route 66 motel in Winslow.
"My wife and I have talked about doing this for some time," Lee said. "But after seeing the movie Cars, it gave us the inspiration to do this."
Lee said Cars is a Pixar animated movie that combines the spirit of Winslow, Holbrook and Joseph City along Route 66 into the story of a town that was once great, but then lost its confidence and fell into a slump after the building of the highway. The cars in the movie reinvent themselves and the town is born again!
The Earls set out to do this for Winslow too, and the painted signs and neon have already impressed visitors in the three weeks since it has been up. Lee said he has seen at least 12 people so far, stop and take their pictures next to the neon at his motel.
Daniel Roiner, of Durango, Colo. and Anne Rico, of Chandler, have been coming together in Winslow for a while as a rendezvous point between their towns. They said they were at another hotel their first night in Winslow, but once they saw the neon at Earl's Motor Court, they decided to check in there instead.
"It looked like a nifty Route 66 kind of place, and it is clean," Roiner said. "Winslow is a nifty little city. We like to meet here in the middle."
Floranel said that Earl's Motor Court, formerly the Marble Motel, was built in 1952 and is the oldest motel still operating as a motel on Route 66 in Winslow. When the Earls bought it in 1974, two people could get a room for $6 a night.
"In those days we could rent a room two or three times a day. People would sleep for a few hours and would go on," Lee said. "There wasn't a freeway then. Just good ol' Route 66. Many things have changed."
Earl's Motor Court used to have neon originally back in the day, but over the years most of it was destroyed by time, elements, vandals and accidents.
"We're the only motel in Winslow that now has all of its original neon lights restored," he said.
Much of the furniture in the rooms are original and in good condition. The only thing that has changed in them is the technology ‹ and also of course the sheets, towels and toiletries.
The restoration of the motel seen so far is only half of the plan. The Earls have a big surprise waiting for old time Winslow residents.
Floranel is the oldest daughter of the man who put Winslow on the map ‹ Wayne L. Troutner. Troutner's for Men signs once leapfrogged the Here it is jackrabbit signs all the way along the side of Route 66 from Springfield, Mo. to Winslow. Weary Route 66 travelers could not resist the mounting obsession and would stop in Winslow to visit Troutner's men's clothing store.
Lee said he and Floranel still have the 20-foot high cowgirl sign and that they are currently getting cost estimates to have her restored to her former beauty.
"The cowgirl will remain exactly as she was back then. Even the name, Wayne L. Troutner's for Men, will stay the same," Lee said.
The Earl's are doing this for their love of Winslow and its history.
"This is our dream to restore this motel," Lee said. "If other businesses are willing to invest the money, I'd tell them, 'Yeah, it was worth it."'
Lee said those interested in getting neon signs for their business too may contact him at the motel. (928) 289-0188.