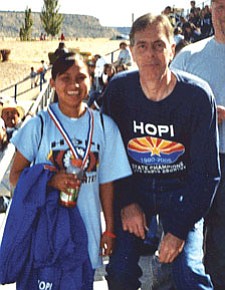 Originally Published: November 7, 2006 4:12 p.m.
POLACCA - Chinle won the girls 3A North cross-country regional at Hopi High Oct. 28.
Chinle won with 37 points, Winslow grabbed second with 69 points, Ganado finished third with 72 points and Tuba City took fourth with 102 points. The top four teams and top 15 runners qualified for the state meet.
Hopi took fifth place with 103 points, Window Rock placed sixth with 131 points and Greyhills finished seventh with 184 points.
Charnelle Curley from Chinle was the individual regional champ with a time of 19:36 in the 49-runner race.
Curley, a freshman sensation, said it was great winning the regional championship. "I took it easy all the way," she said.
Curley noted that this was her first win this year. She finished third at the Holbrook invite the previous week.
"I'm glad my team won too," she said.
Curley, a B average student, will also run track this school year and hopes to get a cross country scholarship to college, although she hasn't decided where she wants to go.
Ganado's Marily Curley took second and Hopi's DeAnn Honanie finished third.
The others finishing in the top 15 were: Eva Stuart, Chinle, fourth; Valerie Segay, Window Rock, fifth; Courtney Norberto, Chinle, sixth; Mary Ricks, Winslow, seventh; Teri Wilson, Ganado, eighth; Shelbi Little, Tuba City, ninth; Leah Strong, Greyhills, tenth; Brianna Little, Tuba City, 11th; Cody Terrell, Chinle, 12th; Keisha Whitehair, Winslow, 13th; Stephanie Johnson, Chinle, 14th; and Janelle Fuson, Winslow, 15th.