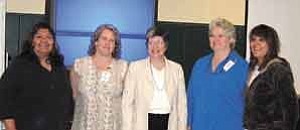 Originally Published: May 26, 2006 4 a.m.
TUBA CITY -- Last June, Tuba City Unified School District received federal funds to enhance the teaching skills of Sharlene Navajo, Regina Akee, Cynthia Robbins, Marie Wheeler, Denise Masayesva, Sonia Rojo, Constance Benally, Judy Reinoso, Marilyn Atcitty and Delma Glasgow through the AzTEP (Arizona Teaching Excellence Program).
The Title II grant is specifically for teacher quality enhancement and distributed to underserved schools in recruiting, creating and retaining high quality and highly qualified teachers.
In Arizona, these include public or charter schools located on reservation lands in high poverty areas with high minority populations.
Tuba City District competitively secured one of these grants with the assistance of Governor Janet Napolitano's office in a partnership with the Arizona K-12 Center.
Several components in the grant include Retention of Beginning Teachers -- an induction style program that has the guidance of a mentor teacher. For Tuba City District the mentor is Cheryl Jackson, Gifted and Talented coordinator, working directly under Dr. Harold Begay, TC District's associate superintendent.
Teacher retention
There is quality professional development offered throughout the year within Tuba City District, which development incorporates the Professional Development
Leadership Academy team efforts under the guidance of Dr. Begay. It also includes an ASSET online professional development opportunity for each participant.
National certification
Maggie Leatherbury, a teacher at the Eagle's Nest Intermediate School at TC District recently completed her portfolio submission for 2005-06 paving the way for additional TC teachers. Leatherbury will take her written assessment this summer to determine if she achieves national board certification.
The cost of this final certification is approximately $2,500. The AzTEP grant will pay for up to 10 teachers to go through this process. In exchange for accepting this grant money, these teachers must agree to stay within their already contracted district settings. This will also allow for tenure status within their job assignments.
The national board requires three years experience, a bachelor's degree and a teaching certificate. The Master Teacher-Distinguished Educators program, is also a free program but requires five years of teaching experience with the sponsoring district selecting the additional mentors needed.
The final portion of the grant is the recruitment of new teachers. TCUSD has sent several interested reservation community people to Arizona State University to complete their degrees in education.
Governor Napolitano's office through tribal liaison, Marnie Hodakwen, has been extremely supportive of Tuba City District's efforts to meet the state required standards for highly qualified teachers and state standards for testing.
When the Governor was in Tuba City May 13 to visit the Tuba City Chapter, she made a special stop at the TC High Warrior Pavilion to visit teachers in the AzTEP Program.
Thomas Laws, along with the Governor, had a brief visit with Dr. Hector Tahu, TCUSD superintendent, and governing board member, Priscilla Kanaswood along with Sharon Navajo, Cynthia Robbins, Constance Benally and Delma Glasgow.
Jackson, acted as facilitator and host to the governor's office and ended up taking the entire group on a tour out to the newest TC District school in Gap, "Tsiinibaas Habitiin" (Wagon Wheel Trail).
Jackson said that she was very pleased that Governor Napolitano accepted her phone invitation to come visit TC District,.
"It never hurts to ask," Jackson said. "I thought, she might just say yes, and I was so pleased that she was so supportive of our district efforts to move our teachers towards a higher qualified platform. It really shows that her educational efforts do reach the northern Arizona and reservation areas. "
(Rosanda Suetopka Thayer is Public Relations Director for Tuba City Unified School District.)