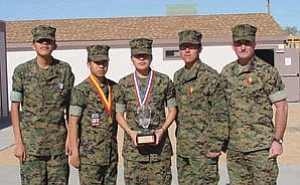 Originally Published: May 5, 2006 4 a.m.
Tuba City High School's MCJROTC Marksmanship team recently traveled to Ft. Benning, Ga. for the JROTC Three-Position Air Rifle National Championship for high school competition.
Though its been a year-long tough road of qualifying at local and state level high school competitions, with the first round of nationals consisting of firing 221 total units, Tuba City High School came away with a new marksmanship title--the 2006 MCJROTC National Marksmanship Champions.
The new 2006 winning "Warrior" Team consisted of Ashley Manygoats, Darrin Talawepi, Charles Lee and Darrell Robbins.
Their coach and mentor, Gunnery Sgt. Timothy Shaner, who is also teacher instructor for this state renowned marksmanship team has done an outstanding job of training his students for this prestigious event. His regime included physical maintenance, discipline of a sugar free diet including lots of fresh vegetables, hours and hours of shooting practice as well as staying on top of their academic requirements. As if that wasn't enough, the team performed public community service in the Tuba City area.
Along with the national title, each of the team members scored individual awards consisting of Ashley Manygoats winning Marine Corps National Champion and 10th Place Overall. Charles Lee was the Marine Corps second High Shooter and 12th Place Overall. Darrell Robbins was fourth in Marine Corps, 17th overall. Darrin Talawepi was eighth Marine Corps and 37th overall.
The second round of competition consisted of the top three teams in each Marine Corps District (in each region). The Eastern Region had their championship in Ft. Benning. The Western Region had theirs at the Olympic Training Center in Colorado Springs, Colo.
When the dust finally settled, Tuba City was the number one team in the Western Region. Then the top two teams from the west and the top two teams from the east qualified for this national competition.
It was then the competition levels heightened another level.
The MCJROTC programs then competed against both Army and Navy high school teams.
After two days of firing, Tuba City was determined to be the new Marine Corps National Champions and third place overall.
The Warrior team ended with 17 points out of first place overall.
It was also at this point that the Warriors set a new Marine Corps National Record having fired 2144 on the second day.
Shaner said, "I am extremely proud of this 2006 team. They did an outstanding job representing this school, this district and this community. I also want to take a moment to clear up a misconception that I heard about why our TC High Marksmanship team is doing so well. Some people were saying that the reason our team was doing so well is that they are Native Americans and that shooting comes 'natural' to them. But that is not true.
"Marksmanship, especially a three position air rifle, is a learned skill," Shaner declared.
"By trying to pass off our team's shooting skills as natural diminishes their hard, their discipline, their training and commitment and this so-called natural skill has taken them three years to get here," Shaner said.
"They have put in hundred upon hundred of hours of practice time. They practice between 10-11 months a year non-stop and it's hard work, dedication and sheer commitment that have put them at the top of this marksmanship game.
"Nothing else," Shaner insisted.
"This special Warrior Team has shown a sincere desire to win and even more astonishing, to be better each time they put their learned skill to practice," Shaner added.
For more information about the new Tuba City High School MCJROTC National Champions call the ROTC Program at 928-283-1046 or the Tuba City Office of Public Relations at 928-283-1072.