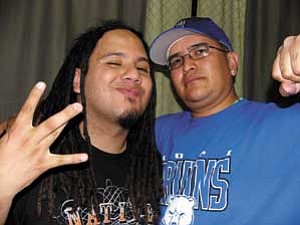 Originally Published: March 18, 2006 4:08 p.m.
KYKOTSMOVI — The doors of the Hopi Veterans Center in Kykotsmovi opened at 8 p.m. on March 3 for the second stop of the Native Movement Tour. Almost immediately young people drifted in, largely Hopi, but this was to be a multicultural event.
Members of Youth of the Peaks — a group of high school students from Flagstaff formed to protect the San Francisco Peaks against desecration — manned the gates. A donation to the Native Movement organization bought entrance; however no one was turned away for lack of funds.
The message behind the Native Movement Tour is free for the asking.
It urges youth to avoid substance abuse and gang involvement, something that two of the big names of the evening have experienced firsthand.
Hopi/Navajo rapper Gabriel Yaiva does not hide the fact that he was once deeply embroiled in gang culture. Red Cloud, of indigenous Chiapas ancestry, has his own past.
"Let me catch you up on my life," Red Cloud said. "When I was born, my mother was only 17. I never met my dad; I've never seen his face. I was given up for adoption when I was 8 months old, and I'd been in jail twice by seventh grade."
Things changed for him through spirituality.
"One day the Creator spoke to me," Red Cloud said. "I give all the credit to Jesus. Jesus, the Creator, is the King of all tribes, the King of the tribe of Judah. The Creator wants to do something in your lives tonight."
Yaiva credits his music for his escape from the lifestyle that could have cost him his life.
"I nearly lost my life. I almost took another man's life," he admitted.
In his opening of the event, Yaiva spoke of the misconceptions of hip-hop music.
"Hip-hop is a way for people to talk about the struggles in their lives, to educate people about those struggles, building awareness. Hip-hop is people working for their native community."
Yaiva told fans that the Native Movement is a coalition of groups working on native causes. What is particularly powerful about the Native Movement is that it is comprised of young people, and Yaiva encouraged people to realize the power of youth.
"These are young people—your peers—they are not much older than you are," Yaiva said. "No one is older than 30. We are out here educating and having a good time. Some are working to save Alaska from further destruction."
Yaiva encouraged youth to get involved in the issues affecting their lives, including an upcoming march on March 25 where thousands of people are expected to converge on Flagstaff's City Hall to voice their concerns about snowmaking and other desecration on the San Francisco Peaks.
"As people of the Southwest, this mountain is very important to us. We must fight for it, and we must win," Yaiva said.
Mikeless, a rapper from the Shiprock area, started the evening—with DJ Kiss laying down the beat.
Mikeless provided the love song for the evening.
"While I was driving here I wrote this song for you guys," Mikeless said. "I had to pull over because I started crying. DJ Kiss was asleep and I just got lonely."
With that he launched into the popular hip hop song, "Mr. Lonely."
Halfway through, DJ Kiss brought the music to a brake-grinding halt.
"I almost started crying," Mikeless teased. "See how much I love you guys?"
He quickly moved into "There ain't no party like the Hopi party," in which young people of Hopi as well as of other ancestry joined enthusiastically.
Jocobo and the All People Band followed with a set of acoustic/percussion music with a Latin beat. The music seemed to puzzle some of the rap fans—but a large group gamely altered their dance movements to match the music.
Jocobo told attendees that his music is geared not only towards native people but to a world people.
"We are supporting the music about change and speaking the truth," Jocobo said.
Band member Hunter RedDay, of Navajo and Lakota ancestry, called the Native Movement a revolution. RedDay noted that Hip-hop was "true music with compassion.
"Hip-hop is about people of all walks of life," RedDay continued.
That said, RedDay introduced the leading name of the evening.
Red Cloud possesses lightning fast delivery—one hand raised and striking the air with matching speed, punctuating his poetic rap. The crowd responded with matching enthusiasm as fans shouted back chorus lines to songs, including the alternate "the church is on fire."
Guided by the impressive beat of DJ Wise, Red Cloud whipped the young people to a new level of exuberance.
In between songs, Red Cloud renewed the oxygen flow to his blood and flashed a Batman belt buckle, teeth gleaming through the darkness.
"I won't forget about Hopi," Red Cloud promised. "If I do, you can kick me in the face."
That said he launched into another rap.
Red Cloud revealed that he had just signed a contract with Sony—and called the All People Band back to the stage for more music.
"Sony got me this band. They cost me $500 a night, but they are worth it," Red Cloud said. "I'll show you why."
The musicians launched into more hip-hop, driven by the beat from DJ Wise. All People members proved that percussion and acoustic can hold its own on a hip-hop stage.
Red Cloud closed his set in what he said was his usual manner—freestyle. Dividing the audience packed tightly against the stage into three parts—beginning, middle and ending—he asked fans to reach into their pockets and hold something up. Lighters, cell phones, cash, even toilet paper and the "patient" from the board game Operation were lofted into the air. Red Cloud took chap-stick, necklaces, pens, watches and more, then included each item in a flawless rhymed rap without hesitation. More than 30 items became part of the song—one that, he said, could only be performed once.
As the stage was cleared of equipment, instruments and lighting, the crowd of close to 200 people began to drift outside. Stragglers stayed behind as Yaiva and Red Cloud signed autographs and CDs. Both men radiated pure joy as they greeted the young people so important to their lives. The Native Movement Tour was clearly on a positive road of change.
Yaiva was pleased with the turnout.
"It was beautiful," he said. "Hopi is a beautiful place—there's a reason why Hopi is so special. I'm glad they showed up for us."
The tour continued on to Tuba City the following night and ended at Zuni, New Mexico March 5.
More like this story