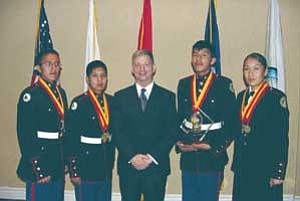 Originally Published: March 8, 2006 4 a.m.
Tuba City --The Western Region Championship held in Colorado Springs, Colo. Feb. 22-25 was a "shooting cake walk" for Tuba City High Marine Junior ROTC Warriors and lone Lady Warrior.
TC High has accrued more than 80 awards this year alone in both team and individual categories and "they aren't done yet" according to Gunnery Sgt. Tim Shaner, one of the senior instructors for the TC High program.
The top three schools from each Marine Corp district combined make up more than130 schools that compete with one another in this event.
The 8th Category, which is the division that Tuba City is in, competes with divisions of 9th and 12th.
This championship also included the Army and Navy high school ROTC teams.
But Tuba City High competed in their own category of Marine division.
The top two teams from each service area, including Army, Marine Corps and Navy advanced to the National Championships, which was held this year at Benning, Ga. on March 6.
Tuba City High will be going into this championship event, ranked #1 in the nation for high school Marine Corp programs.
Gunnery Sgt. Shaner's team did an outstanding job in Colorado Springs, finishing with a final First Place score of 2,089.
Second Place went to a high school from Des Moines, Iowa, final score 2,034 and 3rd place was Sapulpa High from Oklahoma with a score of ,020.
Individually, the TC High team brought home the following awards: Darrell Robbins, Silver Medal; Ashley Manygoats, Fourth Place; Charles Lee, Fifth Place; and Darrin Talawepi, Seventh Place.
At this level of national competition, any coach would be happy to have one shooter place, but Tuba City had all four of its high school shooters qualify for final national competition.
The next stop for Tuba City High School's Marine Junior ROTC program is the Junior ROTC National Championships in March. The event has become known as the "The Nationals" and is recognized as the "premier" shooting event for junior shooting.
For more information about the instructors, students or the program at Tuba City High School Marine Junior ROTC, call Gunnery Sgt. Shaner or Sgt. Bustamante at 928-283-6969 or the Tuba City District Office of Public Relations at 928-283-1072.
(Rosanda Suetopka Thayer is Public Relations Director for Tuba City Unified School District.)
More like this story