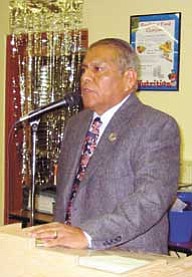 Originally Published: March 8, 2006 10:18 a.m.
POLACCA — Hopi Chairman Ivan Sidney said he has been negotiating to reach an agreement to get the coal mining going again and that several other projects on the Hopi Reservation are in the works.
Chairman Sidney said highway improvements, expansion of health care facilities, creation of rehabilitation facilities and putting turf on the football field are on their way.
Sidney gave his comments Feb. 28 during the Hopi High School winter athletic banquet. Approximately 300 packed into the cafeteria to honor the athletes after eating a rib dinner.
Sidney said he has been negotiating with the stakeholders of the Mohave Power Plant to reopen the coal mine that recently closed. The coal mine funded a large portion of the Hopi Tribe's government that they now have to do without.
Sidney said he met with members of Congress recently who assured him that $1 million had been appropriated for the plan and design of Low Mountain Road.
Sidney said the Hopi Tribe is working on getting funds to expand the criminal justice facility so it will include a drug and alcohol rehabilitation center.
"Sadly, we have addicts," he said.
Sidney praised Hopi Health Care Center Chief Executive Officer Daryl Melvin and Bureau of Indian Affairs administrator Wendell Honanie for identifying $8 million that can be used to expand the health care center.
Sidney also praised Hopi Jr/Sr High School Superintendent Paul Reynolds and the Hopi Jr/Sr High School Governing Board for approving putting turf down on the football field.
Sidney told the student athletes that they are the role models for the younger children.
"You need to promise yourself to continue your education and you need to promise to take care of yourself," he said.
Sidney noted that the previous day he visited Tuba City High School.
"But I told them I'm a Bruin fan whose just visiting your school," he said.
Sidney recounted how he recently beat cancer. He said when he was going through chemotherapy treatment that he almost gave up, but with the help of his best friend, his wife Yvonne, and his family he made it through.
"I almost gave up, but I thought it over. I wanted to
see my grandchildren grow," he said. "Everyday is a good day when you're alive, so let bygones be bygones."
Sidney said he is aware that cancer can return at any time so he is in a hurry to get things done.
Sidney also led a moment of silence for Mark Hall, the Hopi High math teacher and former basketball coach who recently died.
Athletic awards
The Hopi High winter sports coaches gave out the following awards:
• Wrestling—Scholar-Athlete, Kaleigh Robertson; Most Improved, Katrina Williams; Bruin Award, Stanley Lomayestewa; and Inspiration Award: Charles Austin.
• Spiritline—Best Projection,Kristy Timms; Scholar-Athlete and Outstanding Leader, Kiara Pahovama; Outstanding Leader, Maridee Silas and Ignacio Susunkewa.
• Boys Basketball—Most Improved, Matt Lamson; Scholar-Athlete, Octavius Wartz; Coaches Awar, Jeremy Adams; and Most Inspirational: Vince Youvella.
• Boys Junior Varsity Basketball—Scholar-Athlete, Dion Melvin; Most Improved, Chad Baker; Most Dedicated, Braden Lee; and Coaches Award, Jaynes Saufkie.
• Boys Freshman Basketball—Mr. Hustle, Adrian Curtis; Best Defense, Trevor Nasevaema; and All-Around, Albin Tawahongva.
• Girls Basketball—Best Offense, Savanna Anderson; Best Defense, Deidra Jones; All Around, Nadia Nelson; and Coaches Award, Patricia Sewemaenewa.
• Girls Junior Varsity Basketball—Scholar Athlete, Briann Laban; Best Rebounder, Adrianna Preston; Best Defender, Ivy Honie; and All Around Annalese Nasafotie.
• Girls Freshman Basketball—Scholar-Athletes, Tate Jensen, Allayna Koruh and Kelly Keith; Hustle Award, Cassandra Nash; Lady Bruin, Alyssa Begay; and Most Improved, Marlinda Dewakuku.
(Stan Bindell, former Observer editor, is journalism and radio teacher at Hopi High School.)