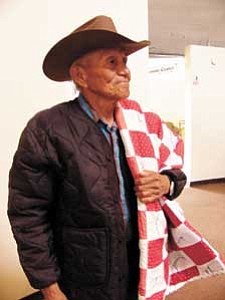 Originally Published: March 8, 2006 4 a.m.
BIRDSPRINGS -- The spirit of volunteerism is alive and well at Birdsprings Chapter. The chapter hosted a dinner on Feb. 28 to recognize a large group of volunteers who have assisted the chapter's senior citizen center throughout the past year.
Senior Center staff set the spirit of volunteerism for the center. Staff members, hired to work six hours per day, contribute two additional hours daily to keep the programs for the elders running full time, according to chapter delegate Thomas Walker Jr.
At least 50 people gathered to enjoy numerous raffle gifts, an amazingly abundant dinner, recognition from Andrew Tso, executive staff assistant to the Navajo Nation's President's Office and a blessing by Alfred Tsosie.
It was a colorful affair. Four generations filled the domed walls of the chapter house--smiling elders watched as young children cavorted between tables. Grandmothers sported full bright skirts and headscarves in spring colors.
Harry Kee Wagoner, who serves the chapter as the grazing officer, emceed the event. Thomas Walker Jr., council delegate serving Birdsprings, Tolani Lake and Leupp chapters, shared the duties of guest speaker with Tso. He acknowledged absent chapter officials Eddie Kee Yazzie (president), Isabelle Walker (vice president), and Vernice Wagoner (secretary).
Staff members honored were Geraldine Dickson, Dolly Wagoner and Donna Begay. Volunteer staff honored were Robert Yazzie, Betty J. Begay and Sarah Leon. Community members honored were Patsy Schultz, Roberta McLean, Janeel Begay, Charlotte McCabe, Teri Long, Eileen Hardy, Vivian Alex, Amos Slim, Thelma Benton, Ronald Wagoner, Harry Wagoner and Thomas Walker Jr. Volunteers received fleece jackets purchased with contributions from Birdsprings Chapter, the Navajo Nation Office of the President and Walker. Volunteer contributions included clerical support, transportation of elders over rough roads and long distances, helping in the kitchen, evening and weekend activities, participation in summer games events and more.
Four elders were selected to receive quilts made by Marie Barton. Mary Slowtalker was honored as being the most participating senior in center activities. Anne Dailey was honored for making the most donations. Harold Wagoner was honored for the long walk he makes to the chapter house to participate in Senior Center activities. Anna Long was also honored for her contributions to the center.
When asked if she had a message for her volunteers, Dolly Wagoner (program supervisor) said simply, "Thank you for your time."
Wagoner said that the program prepares 55 meals on a daily basis, 32 of which are delivered to elders at their homes. Before Leupp Chapter moved to a new facility with a kitchen, Birdsprings staff prepared 120 meals per day. The center also holds events such as Bingo games and song and dances.
The kitchen staff took the opportunity to demonstrate their cooking skills by loading plates with turkey, ham, white and sweet potatoes, stuffing, corn on the cob, peas and corn, cranberry sauce, garden and gelatin salads. A large cake served as desert.
Sarah Leon made the closing remarks and Leroy Long gave the benediction. After the well-fed group dispersed, Walker took time to praise the senior programs of Birdsprings, Leupp and Tolani Lake.
"I want to give credit where credit is due," Walker said. "I know that the Leupp, Tolani Lake and Birdsprings senior center staff does quality work. Their services are commendable and have met he goals and objectives under the Native American Agency on Aging and Navajo Nation Division of Health. These three centers are in compliance, providing quality services to elders.
"Birdsprings Senior Center has invited my full participation and support of their program, and I have thrown my full support here. I have seen firsthand the quality work they do, and I want them to receive the credit they deserve."
Walker said that Birdsprings Chapter can look forward to the construction of a 10-unit group home to be located on the chapter tract.
"This will not be an institutional care facility," Walker said. "We have secured funding though the Native American Housing Assistance and Self Determination Act (NAHASDA) and via the Navajo Housing Authority to provide an independent assisted living situation here in Birdsprings."
The group home will also provide additional employment opportunities at Birdsprings. Walker said that representatives of the Senior Center and the chapter will soon pay a visit to a similar facility.
"Staff will see and appreciate how another community operates its own group home," Walker said. "This visit will initiate the planning and operation of our own group home."
The group home and Senior Center programs will merge, working hand in hand to serve community elders, Walker said.