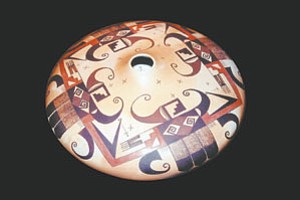 Originally Published: June 29, 2006 4:35 p.m.
FLAGSTAFF— Visit more than 50 fine arts and crafts booths at the Museum of Northern Arizona's 73rd annual Hopi Festival of Arts and Culture in Flagstaff on Saturday and Sunday, July 1 and 2.
Attendees will gain insight from carvers, painters, jewelers, potters, basket makers and textile weavers. Take part in insightful discussions about the Hopi under the big tent. Enjoy the music, dances and food.
New this year
Docents are scheduled several times each day to tour throughout the festival, visiting basket makers at their booths. The long tradition of basketry is continued by Hopi women today.
The symbolism in their designs link each basket to Hopi life, past and present, and particularly to Hopi religion and agriculture. On this tour, understand the intricacies of this art form and what makes certain pieces unique by examining work by Annette Koruh, Ruby Chimerica, Joyce Saufkie, Dianna Shebala and Griselda Saufkie.
Hopi radio KUYI's Station Manager Lisa Youvella will speak about incorporating Hopi language with public broadcasting of health, social, and cultural issues. KUYI, 88.1 FM Native American Public Radio from the mesa tops of northeastern Arizona, hosts its own news program "Indian Country New Bureau," reaches all Four Corners states, serving the Hopi, Navajo and Ute native communities with its eclectic sound.
Learn about MNA's Hopi Iconography Project from Dr. Kelley Hays-Gilpin, an associate professor of anthropology at Northern Arizona University, who is researching mural and pottery paintings of Hopi and other Pueblo people.
Kelley is working with the Hopi Tribe to develop an exhibit that will explore key aspects of the Hopi World to Euro-American and native visitors.
An exciting, contemporary entertainment addition this year is Hopi Chairman Ivan Sidney's band, the Hopi Clansmen. This contemporary rock and country band was formed in the '60s and reformed in the '90s with the original members and their sons.
Returning highlights
On Saturday only, watch Hopi pottery being shaped, painted, and traditionally fired with sheep dung by award-winning potter, Dorthy Ami. She gathers the clay and paints her pots using natural pigments in an effort to hold to the ancient ways of making Hopi pottery taught to her by her mentor, potter Mark Tahbo.
Ami will also be giving two-hour long presentations on Saturday and Sunday about Hopi pottery. Emerson Ami, also a potter, will assist Dorthy with the firing demonstration.
Several walks along the Museum's Rio de Flag Nature Trail each day are scheduled with ethnobotanist Michelle Sockyma, who gathered her knowledge of plants of this region from her mother, Theodora Homewytewa, a Hopi medicine woman.
Casper and the Mighty 602 Band returns this year with an expanded band to play its modern reggae sounds combined with Native roots, incredibly high energy, and music filled with hope and power. The traditional Lomayaoma Dance Group will add new dances to its eagle and rainbow dances.
While enjoying cultural discussions and entertainment under the big tent, take a taste of Hopi yeast bread made by Dianna Shebala and baked in an outside oven, and piki made by Rebecca Namingha. Vivian Sockyma will make parched corn and Alice Dashee will give presentations all day on both days about the role of corn in Hopi culture.
The Hopi are descendants of the ancient Puebloan people, whose cultural history is documented throughout the Four Corners region for thousands of years. The Hopi villages are located on mesas in northeastern Arizona.
Traditionally, the Hopi are dryland farmers who specialize in the cultivation of corn, beans and squash.
One purpose of Hopi religious ceremonies is to attract rain and snow to the mesas for the benefit of farming and all life forms. Hopi blue corn is adapted to the arid climate and plays an integral part in Hopi ceremonial life. Learn about Hopi lifeways at this year's festival.
Program coordinator
Anne Doyle, MNA's new Heritage Program Coordinator, has been working with Flagstaff arts organizations for 10 years. For the last year and a half, she was MNA's Volunteer/Docent and Tour Coordinator, organizing educational programs and booking school and commercial tours.
Before that, she interned in Collections and Education, and assisted in Exhibits. Doyle's past two years as Curator of the Native American Youth Art Exhibit, her five years' work with Trappings of the American West, and her master of arts degree in museology are all part of why she's been chosen to guide this very important part of MNA's mission.
She has had a lifelong interest in making cultural connections through the arts and looks forward to continuing the Heritage Program as a vital link between the artists and the public.
Hopi Days
In association with the Museum's Hopi Festival of Arts and Culture, downtown Flagstaff galleries are again featuring Hopi Days, with kachina carving, basket weaving, and pottery demonstrations.
Participating galleries are Jonathan Day's Indian Arts, Painted Desert Trading Company, Puchteca Indian Goods, Thunder Mountain Traders, and Winter Sun Trading Company.The Museum of Northern Arizona is located three miles north of historic downtown Flagstaff on Highway 180.
Festival hours are 9 a.m.-5 p.m. both days and admission is $7 adult, $4 senior (65-plus), $3 student, $2 child (7–17), and free to members.
For more information, go to www.musnaz.org or call 928-774-5213.