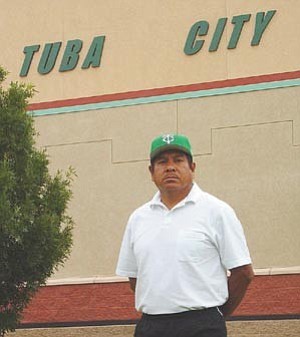 Originally Published: June 23, 2006 4 a.m.
TUBA CITY ----Steve Victor, veteran TC High teacher since1986 from the San Carlos Apache Tribe, claims he has been in love with softball, baseball and all that comes with that sport his entire life.
This year, his love for the game paid off.
The Arizona Coaches Association recently selected him to be the North Region Coach for the All Stars 1-3A School Championship game, held June 17 in Phoenix.
His northern team played two games against the South Region All Star team for the final title.
Victor, who in his regular everyday teaching capacity is the automotive teacher for three levels of auto shop at TC High, gives much credit for his career as a teacher and coach to Don Rowe, who was also a former teacher and longtime friend.
It was Rowe who encouraged Victor to teach at Tuba City High in the automotive field. Through this association with students on a daily basis, Victor said decided he might want to try his hand at coaching.
Victor has been coaching for the past eight years and out of those, he has lead the TC High Softball team to six tries for the state title.
This new title of North Region Coach for the All Stars Team is a first for Tuba City High School.
It's also a first for the two young women that Victor took with him to the final All Star game ----Warrior softball stars senior Lucia Jenkins, second base, and senior Leah Dempsey, outfield and shortstop.
Both of these players in Victor's opinion, "are outstanding."
Victor said his experience in both baseball and softball started when he played in a men's fast pitch league in Kansas, adding he learned a lot from that personal experience. "I love the game of baseball and softball; it's done a lot for me," Victor said. "It's taken me places that I didn't think I would ever go and has allowed me to gain lifelong friendships and respect."
However, he cites working with students as the most rewarding aspect of coaching.
"It has been quite an experience to get students to believe in themselves and to trust their acquired baseball skills," Victor said. "I encourage each of them to do the best they can and to never give up."
Regarding Jenkins and Dempsey, the two players he took to the June 17 playoff game, Victor said, "Each of these players has great potential, a never give up attitude."
He pointed out that they encouraged their teammates as well as working hard individually.
"You don't often see this kind of sport discipline in such young students, so it was inspiring to work with them," Victor said. "Both of these students have been accepted to Gateway College this coming fall 2006, so I am proud that along with their fine sport skill, they also recognize the importance of their academic pursuits as well."
The San Carlos Apache Gold Casino sponsored Victor and his two young athletes' trip to North-South 1-3A Regional Champion game. This included rooms for his players, courtesy of David Parkerson, director of Sales/Marketing; and Janelle James, Hotel manager of the Apache Gold Casino Resort.
Victor said he hoped his TC High Assistant coaches would make it to the game to assist him -- Byron Harvey, Pete Butler and Jonathan Yazzie.
Victor's final words about his new coaching title were "Any of our reservation-raised kids can compete with the best of them, but it takes support, commitment and disciplined training. Coaching is not just about the sport but also imparting to each student, knowledge about their own personal dignity and how that affects everything you do in life."
(Rosanda Suetopka Thayer is Public Relations Director for TCUSD.)
More like this story