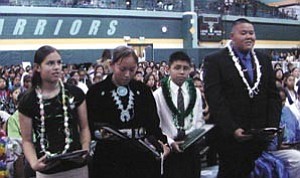 Originally Published: June 22, 2006 4 a.m.
TUBA CITY----Moving on up!
Junior high graduation is a special time because the transition into high school means several different things.
One, students actually have to start thinking about what kind of job or career path they want to take, so they can plan their high school curriculum and core classes.
Secondly, they will soon be able to drive and have more independence in their social activities.
Thirdly, they will finally get into some more serious competitive sports activity including "real dating."
Tuba City Junior High had a full crowd on June 1 at TC High Warrior Pavilion, which featured several outstanding junior high students who have excelled in both academics and citizenship.
The four outstanding academic achievers with the highest grade point averages for 2006 TC Junior High this year were Ethan Allison, Krystie Black, Elizabeth Holve and Aaron Goldtooth.
Additional students who received recognition for citizenship and were awarded certificates for model behavior such as encouraging peers, assisting teachers and administrators and academic achievement were Jacqueline Bigman, Chyla Anderson, Charles George, Shoshanna George, Chaquel Mix, Quinn Honanie, Kurtis Klitso, Kristin Neztsosie, Tommy Suetopka Jr. and Brittney Willie.
Special guests included the entire TC District Governing Board along with TC Superintendent Dr. Hector Tahu, acting Principal for TC Junior High Dr. Harold Begay and Assistant Principal for TC Jr. High Edward Tuchawena, as well as 1st Sgt. Kenneth Bustamante of the nationally recognized TC High Junior ROTC program, the keynote speaker for the junior high event.
An entertainment highlight this year was the featured student musical performers in the TC Junior High Orchestra conducted by Morris Nesmith, music teacher. This is the third year in a row that live music has been part of the Junior High graduation ceremony including the processional music.
(Rosanda Suetopka Thayer is Public Relations Director for TCUSD.)