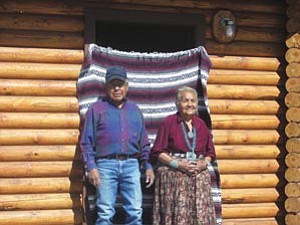 Originally Published: June 17, 2006 10 a.m.
SAWMILL — "The hogan is the beginning of Navajo families. It is a gift to First Man and First Woman — and it is where all of beauty begins."
These are the words of Hazel James, the executive director of the not-for-profit organization Indigenous Community Enterprises (ICE)., at the top of the Hogan Blessing program ceremony held June 2 for Stephen and Rose Smith in Sawmill.
This is ICE's seventh elder hogan construction project in five years.
Close to 50 individuals gathered for the blessing ceremony of the beautiful new home that included bedroom, kitchen and bathroom space as well as the octagonal "great room."
Jackie Kelly, who has served as the organization's administrative coordinator from the beginning, said that her position with ICE keeps her in the office, but she has attended each groundbreaking and hogan blessing — for her they are very special events. She also said she enjoyed spending time with the Smith family.
"The family went all out and provided a great meal to everyone," Kelly said. "There were family members, ICE board members and employees, Sawmill Chapter Delegate Ralph Bennett and representatives from the collaborators — Navajo Housing Authority, United States Department of Agriculture/Rural Development, the Navajo Partnership for Housing and the Sawmill Chapter. The foreman and some of the crew also came to celebrate."
According to Kelly, the elderly couple has already transferred some of their smaller items like dishes and other kitchen utensils from their previous home nearby.
"A daughter told me that each family member has picked a room in the new home and will be furnishing and decorating it," Kelly continued.
ICE seeks to work directly with indigenous communities to increase local economic development opportunities that incorporate traditional culture, foster responsible stewardship of the land, while maintaining individuals' self-reliance, dignity and responsibility. One of the efforts that helps ICE accomplish its mission is the Elder Hogan Homes Program.
"Rose expressed that she was very thankful to everyone who came together to help them receive their hogan," James said. "She said she'd always dreamed about being in a hogan, and she is thankful that in her old age she will be living in such a beautiful home."
James stressed that she is very proud to be able to address housing issues on behalf of Navajo elders.
"Our elderly deserve to live in a clean, dignified environment, and the Elder Hogan Home Program gives them that," James said. "It is truly a good feeling to see the elders happy, knowing that they will be warm in the winter and protected from the scorching sun in the summer. These homes are very well-designed to be energy efficient."
Traditional design
Another feature of these homes is the traditionally sensitive design of an eight-sided hogan — and, according to Kelly, they are built to code, Kelly pointed out that the Elder Hogan Home Project is a collaborative effort made possible through leverage funding from other programs including the Navajo Housing Authority (NHA) as the Tribal Designated Housing Entity — overseen by the Navajo Nation.
Others featured in a long list of partners includes the Navajo Partnership for Housing, Native Americans for Community Action, Coconino County, the Fannie Mae Foundation, the Tribal Community Conversation Corp. and too many others to list here.
Nonetheless, ICE is grateful to each, Kelly and James both said.
Program requirements
Various chapters nominate elders for the program and family members name others. Each must meet certain requirements to be considered for a home. He or she must be at least 60 years of age and possess a home site lease (preferably a 200 RL or 200C with completed survey plot and archeology clearances).
Further, the elder must be in a low to moderate income bracket, possess a good credit rating and have a home site near an existing electrical and water line, according to Kelly. Elders will also receive information on home ownership.
The elders are also a collaborator in the project — having applied for a 502 USDA Rural Development loan.
"With consistent payments for five years, some of these loans are forgivable," James pointed out. "But this small loan also gives the participant a feeling of self-sufficiency."
Other programs ICE features, aligned with the goals of community self-reliance in a culturally respectful manner are the Individual Development Account Savings Program, the Straw Bale Project and the Native Foods Project.
James was obviously very excited about straw bale development — and the partnership between ICE and the Red Feather Development Group — part of the Frederick P. Rose Architectural Fellowship program out of Bozeman, Mont.
"We met members of the organization while they were working at Hopi last year," James explained. "We expressed an interest in designing a straw bale home with a culturally relevant design — an octagon. Red Feather expressed its excitement about working with us and has assigned us their expert straw bale architectural engineer Nathaniel Corum.
With Nathaniel, ICE will be exploring the possibilities of hybrid Flexcrete (a lightweight, energy efficient building material) straw bale and stone construction, and we expect our designs will be available in the spring of 2007."
Native foods
Another program James has become very interested in is the Native Foods Project.
"ICE partners with Dine' Inc. to implement a sustainable agricultural program using native foods to promote conservation of natural resources and good health," James said. "We've been working with Justin Willie to promote a return to organic, traditional food — encouraging people to again grow their own food. We are also encouraging the Navajo Nation to develop a food security program.
"With the direction the world is going — with the high cost of fuel and food, where everything we consume is carried into the Navajo Nation, we need to re-establish self-sufficiency. If food suddenly became scarce or the transportation/delivery system was interrupted, how would food reach the reservation," James asked. "It is time to return to the use of dry farming techniques to allow our people to stockpile food, to provide for themselves."
James said that currently there is legislation considering the patenting of seeds—including native seeds.
"If that happens, theoretically we wouldn't even have access to our own seeds," James said.
She stressed that she is extremely proud of the work ICE employees and board members do.
"They have all done a great job," she said.
James also thanked Jackie Kelly for her work with ICE — Kelly is leaving the organization in the next week or so to take on another important endeavor.
"I will miss her," James said.
NAHASDA grant
Thanks to the largest grant received by ICE to date — $1,142,745 Native American Housing Assistance and Self-Determination Act funding to be exact — James said she is excited about the future for the important work of ICE.
Board members are President Tony Robbins (BIA Natural Resource Specialist), Vice President Dorothy Gishie (NACA Program Coordinator), Treasurer Freddie Hatathlie (BIA Residence Manager), Secretary Davina Two Bears (NAU Program Manager) and members Earl Tulley (NHA Contract Specialist), John Carpenter and Dorothy Scott (Principle Accountant). Mae Franklin, who serves as liaison for the U.S. Forest Service, serves as an advisor to ICE.
For more information about ICE and the programs it offers, call 928-522-6162, or visit the website at www.icehome.org.