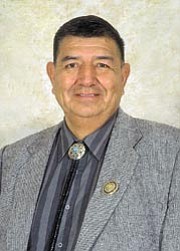 Originally Published: June 13, 2006 3:38 p.m.
WINDOW ROCK — Former Navajo Nation Council Delegate and current St. Michaels Chapter President Albert Ross died May 28, 2006 from complications of diabetes. He was 67.
Mr. Ross served 34 years on the council, leaving in 2003, and had recently announced his intention to run for a seat from St. Michaels in the upcoming election.
Navajo Nation President Joe Shirley, Jr., expressed his condolences in a private meeting with Mr. Ross' widow, Habannah.
"It's a big loss for the Navajo Nation," the President told her. "Oftentimes at a time like this, it's really hard to find the words. He was one of my role models." President Shirley described Mr. Ross as a man of charisma and authority who was unparalleled in expressing himself in the Navajo language.
"The Navajo Nation will greatly miss him," he said. "He was a good man, a wonderful legislator, a beloved leader. It's another sad day in the history of the
Navajo people that we lost another one of our leaders. The First Lady and I send our prayers and condolences to Mr. Ross' family at this difficult time."
Mr. Ross' family reported he became ill on MAY 29. He passed away from complications of diabetes.
Among his numerous achievements, Mr. Ross was longtime member of the Navajo Area Indian Health Board and served as chairman of the National Indian Heath Board. He is also credited with helping begin the Navajo Peacemaker Court with retired Navajo Nation Supreme Court Justice Robert Yazzie.
Mr. Ross was born on Feb. 7, 1939. He was raised at Hunter's Point and attended the St. Michaels Mission and the Albuquerque Indian School. He graduated from
Albuquerque Business College. He served in the U.S. Marine Corps from 1956 to 1962. His career on the Navajo Nation Council began in 1967.
Mr. Ross' funeral was held June 2 at St. Michaels Catholic Church in St. Michaels, Ariz. A reception will followed afterward at the church's parish hall. Burial was at the family cemetery in Fort Defiance, Ariz..
(George Hardeen is Navajo Nation Communications Director.)