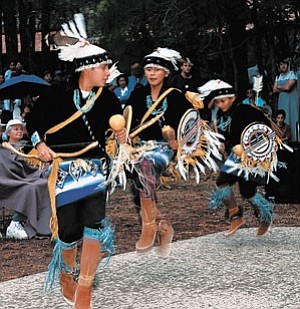 Originally Published: July 27, 2006 4 a.m.
FLAGSTAFF ----More than 70 artists and cultural interpreters from many Navajo clans will gather at the Museum of Northern Arizona's 57th annual Navajo Festival on Saturday, July 29 and Sunday, July 30 to take visitors on a cultural journey into the arts, stories and symbols that define the culture.
World champion hoop dancer and Navajo medicine practitioner Jones Benally will perform Navajo and inter-tribal dances in ornate, handmade traditional clothing. And a traditional children's dance troupe, Pollen Trail Dancers, returns with colorful social dances.
Visitors will have the opportunity to hike with ethnobotanist Theresa Boone Schuler, a DinŽ educator from Flagstaff and a popular presenter at past festivals, to learn Native uses of local plant life on the Museum's Rio de Flag Nature Trail three timeseach day at 10 a.m., 12 noon, and 2 p.m.
Weaving demos
Eleven well-known weaving demonstrators will work on traditional upright or sash looms throughout the Museum including award winners D.Y. Begay, Morris Muskett, Suzanne Harvey and Mona Laughing (see below for sidebars on Begay and Muskett).
The time-intensive nature of Navajo weaving will be evident when visitors view Sarah Paul Begay's 10 by 13 foot weaving titled "Navajo Universe." Woven at Garland's Navajo Rugs in Sedona, it is composed of fine threads in intricate detail that took four years to complete ----one year for the wool dying process and three years to weave.
The innovative design includes three sandpainting panels (of bears, buffalo and a traditional wagon) and Yei-be-Chai dancers in a composition of amazingly realistic action for which Begay has become famous. This is the first time "Navajo Universe" will be on display outside Garland's.
Rug weaving is customarily considered to be a woman's art form. However, master weaver Roy Kady is one of the men who has learned the traditional and spiritual art. Visitors will have a chance to meet Kady and learn more about his love of weaving and the importance of sheep.
Roy Kady is also the project director of DinŽ BŽ iina or DBI, the Sheep is Life Project. DBI honors the central role sheep play in Navajo culture ----for their long wool, tender meat and rich milk ----and helps to promote the return of the Navajo-Churro sheep.
This breed is the first and oldest to be continuously produced in northern America. It had dwindled to a few hundred purebreds, but is now rebounding by some accounts to a population ranging from 3,000 to 5,000.
In conjunction with the Navajo Festival, the Navajo-Churro Sheep Association is celebrating its 20th anniversary. On Saturday, July 29, a sheep show will extend from the Museum's Exhibit Building across Highway 180. Saturday events at the Navajo Festival will also feature demonstrations by La Posada Chef John Sharpe, Navajo sheepherder Leon Tsosie, and weaver Lorraine Herder.
Contemporary music
Visitors will step under the big tent for contemporary Navajo sounds. Appearing for the Blue Stone Project are Grammy nominee and Native singer, songwriter, guitarist and flutist Aaron White and drummer Ed Michaels. They'll be playing songs from their new Canyon Records CD, "Blue Stone," an acoustic-oriented rock sound with Native themes of today.
Blackfire, Flagstaff's own DinŽ trio of siblings will combine Native roots with youthful raw energy. Known as activists, they'll play acoustic versions from their CD "One Nation Under."
Heritage talks
Bringing artists closer to the festival's visitors, a gallery in the Museum will host talks by contemporary painters Shonto Begay and Baje Whitethorne; traditional potters Sally Black, Alice Cling and Virginia Shortman; traditional beading artist Janie Brown; and Navajo linguist Larry King. Independent Native films will be shown in the afternoon each day.
MNA 2006 Heritage Program festivals are generously sponsored by: the Arizona Commission on the Arts, the Arizona Humanities Council, the City of Flagstaff, Coconino County, Flagstaff Cultural Partner, La Quinta Inn, Loven Contracting Inc., the National Endowment for the Arts and Radisson Woodlands Hotel.
About MNA
The Museum of Northern Arizona is one of the great regional museums of the world, surrounded by tremendous cultural, biological and geological resources in one of Earth's most spectacular landscapes. With a long and illustrious history, MNA evokes the very spirit of the Colorado Plateau including the Grand Canyon and Four Corners regions, inspiring a sense of love and responsibility for the beauty and diversity of the area.
By presenting Native cultures, fine arts and tribal lifeways at its festivals, MNA serves as a gateway to understanding the Colorado Plateau.
Festival hours are 9 a.m.-5 p.m. both days and admission is $7 adult, $4 senior (65-plus), $3 student, $2 child (7--17) and free to members.
For more information, go to www.musnaz.org or call 928-774-5213.