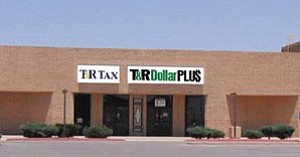 Originally Published: July 20, 2006 4 a.m.
TUBA CITY --After months of planning, organizing and strategizing to meet the needs of their customers, T&R Dollar Plus Store located in Tuba City, is ready to celebrate. Grand opening festivities are set to begin at 1 p.m. and conclude at 4 p.m., Friday, July 21, with a heavy schedule of events in between.
"We've planned eating contests and will have cookies, coffee and drinks for our customers. It should be a lot of fun," said T&R manager Racheal Bowling. "We bought a mini-race car and are planning to have a drawing to pick a winner. We're also going to buy a large basketball hoop and have a shootout contest and the winner gets to keep it."
In addition to these events, a special sidewalk sale will be displayed and gifts and gift certificate drawings will be held throughout the day.
T & R Dollar Plus Store, located in the Navajo Nation Shopping Center, is the most recent endeavor of the original T&R businesses based in Gallup, N. M.
Michele Bonaguidi event organizer and T&R employee explained the expansion.
"It was a family venture. We were looking to expand and there was a real need for a dollar store up there," Bonaguidi said.
Since it's opening in February, T&R has been looking for ways to better accommodate its customers. They placed a comment box in the business to service the specific requests for types of products as well as store layout.
"In the first few months we've been trying to get in there and bump out the kinks. We've been received really well and the customers have been good about letting us know what they need," Bonaguidi said.
"Before holding the grand opening we wanted to make sure the store was fully stocked so that our customers are satisfied," she said.
According to Bowling, T&R is now selling air conditioners, an extensive selection of shoes, skateboards and skating equipment, Skate magazine and a large inventory of groceries.
"Customers really wanted more grocery," Bowling said. "We're hoping to fill another aisle with groceries and also plan to get in a lot more school supplies."
Yolando Bowman, public relations director for the Navajo Nation Shopping Centers, said T&R Dollar Plus will fulfill a great need for commodities in Tuba City as well as the surrounding areas.
"Now people can get the merchandise they need at a cost they can afford. They no longer will have to travel to Flagstaff to get something that less than a dollar," Bowman said.
Bowman explained that for every dollar on the reservation 70 cents is taken off the reservation to be spent. This results in huge losses of job and business opportunities as well as decreases in the local tax revenues, which could be invested in reservation community improvements and schools.
He said that by shopping at local businesses, reservation residents contribute to the positive growth of their local communities.
In addition to the dollar plus store, T&R also offers a tax preparation service.
The Tanner family, owner of the T&R stores, has been working among the Dine since 1875 when Seth Tanner came with other pioneers to settle in the Tuba City area. His son, Joseph, was a good friend of Chee Dodge, the first Chairman of the Navajo Tribal Council. Colin Tanner, great grandson to Seth, was destined to follow in their footsteps.
In 1972 Colin and his wife Coleen embarked on their T&R venture which consisted of a small grocery store with pawnshop inside and a two-pump gas station selling a few bails of hay on the side. Their four children and son-in-law came into the business shortly there after.
The Gallup location now consists of a grocery store, two large gas stations and convenience stores, two pawn shops and the largest tack and feed store in the four corners area.
Since it's inception, the name T&R has been a symbol for many things, but today represents the truth and respect among friends and is symbolized by the bekis.
The store will maintain its normal hours of operation from 9 a.m.- 8 p.m., Friday. For more information, call 928-283-4138.