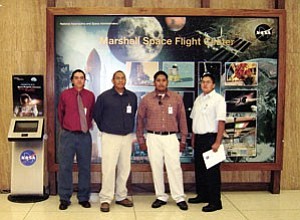 Originally Published: July 13, 2006 4 a.m.
HUNTSVILLE, ALA. ----This summer, the American Indian Higher Education Consortium (AIHEC) has formed a partnership with NASA in hopes of spurring Native American tribal college students' interest in science and engineering fields.
In its first year, the NASA AIHEC Summer Research Experience Program has attracted 60 participants, including college students and faculty from 14 tribal colleges and universities. All are working hand in hand with research and engineering teams at seven NASA facilities throughout the United States.
Two Dine students from northern Arizona, Wade Henderson, 32, of Window Rock and Mercury Bitsuie, 22, of Sanders, are participating in the 3-D design seminars now underway in Huntsville, Ala.
"My love for drafting and AutoCAD really drew me to this program," said Henderson. "Just to be a part of a NASA program is awesome. I personally never thought I'd be here."
Henderson, a University of Oklahoma student majoring in AutoCAD and computer-aided drafting, collaborates each day with Bitsuie, a Southwestern Indian Polytechnic Institute student majoring in computers.
Currently the team is working together to transfer the 3-D drawings of NASA researchers to pro-engineering software.
Due to the highly sophisticated, state-of-the-art computer programs, Henderson and Bitsuie said they would not be able to receive this type of education anywhere else.
"We've been putting in a lot of hours on the computers," said Bitsuie. "We're also working on a larger project to design solid rocket boosters for space shuttles."
Bitsuie and Henderson attributed the heightened degree of skill and knowledge they are acquiring to the mentoring of NASA researcher Greg Dodge.
"He really gives us 110 percent. We have a lot of fun: he's very supportive, lets us work on our own and gives us freedom to experiment," he said. "This experience has taken us to a whole new level."
In addition to the 3-D design projects, other research and engineering teams are exploring robotics, geospacial data analysis (scientifically-based technical systems used to analyze land, water and mineral resources) and astrobiology.
Gerald Gipp, AIHEC executive director, emphasized the purpose of the summer research experience program ids to advance the math and science departments at tribal colleges.
"Our Indian population is significantly underrepresented in the fields of science and engineering," Gipp said. " This program was developed with the fundamental goals of empowering our students and giving them the opportunity to create ongoing, long-term relationships with NASA research mentors."
Gipp explained how the AIHEC/NASA program was also strategically designed to grow local tribal college programs in the areas of engineering and technology and incorporate this knowledge into the tribal communities.
"Our colleges are not just degree-granting institutions. Each college or university really helps the whole tribe and reservation, but also depends upon the support of the tribal community," Gipp said.
Historically, the goal of education programs for Native American students put into place by the federal government was to assimilate tribes into the dominant US culture. If Native Americans received an education similar to that encountered in US Schools, wasn't it more likely that students and their families would be inclined to espouse US values and practices?
"As Native [American] people, we are the owners of very large tracts of land. Mother Earth, as we speak of it, is very important to our people," Gipp said. "As we have worked on economic development for far too long, we've had to rely on outsidersÉ. We haven't had well-educated people to guide us," he said.
By creating the NASA AIHEC Summer Research Experience Program, the AIHEC board, comprised of the presidents of the 35 tribal colleges in the US and Canada, is advocating that Native American institutions of higher learning progress in ways compatible with tribal values.
By combining Western technology with the traditions of Native American peoples, tribal institutions are beginning to advocate for the development of their own lands and futures. As traditional Native American ways are brought face to face with Western disciplines, Native American peoples are now taking the helm.
"This is part of the very difficult process we're going through," Gipp said. "We're now gathering the native knowledge base that we've had for hundreds of years and paralleling that with Western science."
Gipp clarified the groundbreaking work the tribal communities are undertaking.
"It's an exciting time and it's sometimes frightening," Gipp said. "It does take courage to say, 'I want to step out there,'Éand the maintenance of our traditional ways is a very important aspect to consider. It takes a lot of courage and our tribal colleges have flexed the self-confidence to allow students to step out."
Bitsuie envisioned his work in support of the Dine Nation.
"I think I'm helping by learning the government-based program. I'm going to learn this software as best I can," Bitsuie said.
He said he felt they were both a source of encouragement and inspiration to young students.
"We're opening the door for other students," Henderson said. "Yes, I'm a member of the Navajo Nation. I wear my turquoise necklace and Mercury wears his turquoise braceletÉand we're here working our hardest.
By participating in the program, he said he that in addition to representing the Dine nation he was showing respect to its traditions.
"We want to grasp the Western way of thinking and use our education to help our people," Henderson said.
The Summer Research Experience program is supported by a grant from NASA. Currently, AIHEC is also working with the National Science Foundation and the United States Department of Agriculture to further develop the math and science departments of tribal colleges.
For more information about AIHEC visit http://www.aihec.org