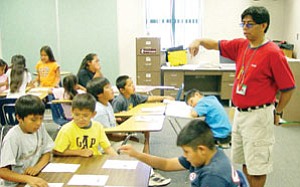 Originally Published: July 6, 2006 8:36 p.m.
TUBA CITY — Arvis Myron, TCJHS and Peggy Honahni, TCHS, are the certified Hopi language teachers at Tuba City Unified School District working in a summer program that incorporates full-on immersion style learning that highlights cultural values — traditional planting activity for the boys and food preparation activities for the girls.
The Hopi Language Immersion session is running concurrently with the Navajo Language Immersion Program at the request of Dr. Hector Tahu, TCUSD superintendent.
The focus of both Myron and Honahni's summer program is to show the different responsibilities that Hopis, particularly Hopi youth, have on a daily basis, on through the year.
Myron's boy sessions are focusing on, "Hak Hopinen sinmuy Amumngem Naatwantongwu"- One plants and grows food for all Hopi, as we are one large extended family.
This single concept is what Myron wanted to show the students to help them realize that one must work the fields yearround to feed not only their immediate family, but their large extended family.
Also the concept of being industrious and not lazy, is one that Hopi children need to grasp as many people today, do not know what hard work means anymore.
Myron showed his summer students what main Hopi crops are grown each year and what kind of tools are used in this planting and harvesting work.
Students will spend two weeks immersed in the Hopi language while working in the fields, cleaning/preparing, planting, maintaining and the final harvesting.
Tools utilized during these classroom sessions are, Sooya (planting stick), Yoktaqa (garden hoe), 'inpi (shovel), Pikya'yngwa (axe) and hangwanpi (pick axe.)
Peggy Honahni, utilized all three concepts of "Sikya'ngaynom Hak Hopinen qa'na onaningwu (One cannot be lazy-One needs to be industrious) and "Hak Hopinen sinmuy tunopnitangwu " (One is obligated to feed all people) and finally, "Hap Hopinen noqkwip tuuwitangwu" (One has the responsibility of knowing how to prepare Hominy stew) for her girls group.
Honahni and Myron showed the students that there are distinct male and female responsibilities in Hopi society and how those are separated. The men tend to the fields and the women prepare the food for their families.
Honahni's culminating female activity of preparing "noqkwivi" (Hopi traditional lamb/corn stew) from the shelling of the corn, to rubbing the outer skin off the corn kernels, to preparing and adding the juniper ashes, and finally cooking the stew until tender. The girls in the Hopi immersion class will cook while the boys are busy in Mungapi's Pasture Canyon, finding out how much work it takes to get the corn to grown and mature.
The boys will also learn how different parts of the traditional Hopi field operates, how it produces and what work must be done to maintain its crops.
All of the Tuba City District Summer School Hopi Immersion activities and language are modeled after what is called the Cultural Triangle.
Both Myron and Honahni are attempting to tie in their Hopi cultural practices and products with cultural perspective — why Hopis do certain things and when.
The final goal is to focus on the language in all the activities. Hopefully students will find the courage to ask and get assistance from their elders, parents, and especially grandparents in helping them to speak Hopi all the time.
TCUSD staff have said they would like to have every native child have every opportunity to hear and speak their own language all their daily lives.
These immersion models were developed by Sheilah Nicolas and Dr. Emory Sekaquaptewa from the University of Arizona's Hopilavayi Program at the Linguistics Institute.
For more information about the Hopi Summer Immersion program, call the TCUSD Office of Public Relations at 928-283-1072.
(Rosanda Suetopka Thayer is Public Relations Director for Tuba City Unified School District.)