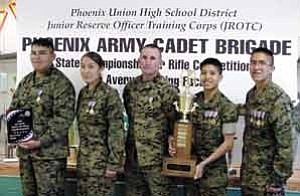 Originally Published: January 26, 2006 4 a.m.
TUBA CITY -- Started in 1977, the Marine Corps Junior ROTC program at Tuba City, the second oldest in the state of Arizona, now has a new status to call its own, the first for any Native Reservation school -- Arizona State Champions for Marksmanship and Number One ranking in First Round of the Junior ROTC Nationals Sharp shooting in the nation.
Tuba City High School Marine Junior ROTC program is under the direction of 1st Sgt. Kenneth Bustamante, Retired USMC, serving as the senior military instructor along with Gunnery Sergeant Timothy Shaner, Marine instructor.
Both Bustamante and Shaner are living examples of what they want their students to be--disciplined, honorable, self-confident leaders focused on academics and community service.
Their hard line attitude for discipline and teamwork is paying off. Of their 15 member team, nine have consistently made academic honor roll, each contributes to varied types of community service and all team members maintain a sugar and fat free diet to keep their nerves and shooting skills steady.
Originally back in 1977, student shooters used small bore riles (.22 caliber) and eventually made the changeover to air rifles, which caught on big in the late '80s.
There are currently two categories for air rifle competition--Sporter and Precision.
Tuba City High Marine Junior ROTC participates in the Sporter category. There is no special equipment or clothing required for this category of competition, but sporter rules state that rifles used in this competition cannot exceed a value of $300.
TC High uses the Daisy Avanti M-888 which is a Co2 powered rifle. These rifles for sporter competition can weigh no more than 7.5 pounds with a 2.5 pounds trigger pull.
Each student shooter can wear a single T-shirt and two sweat tops, regular weight pants and low cut shoes.
If the TC team were to compete in the Precision category, the special equipment would get fairly expensive. The rifles used in the Precision category are valued around $1,500 and competitors must wear a regulation shooting jacket, shooting pants and special shooting shoes.
Outfitting a single student in the Precision category could cost up to $2,500. As a result only private or higher level income schools compete in the Precision category. The rifles in this category can weight up to 12.5 pounds and one-pound trigger pull.
The Western Region Championships is the second and final round of the next competition for Tuba City.
The top nine schools from the western part of the United States will compete at the Olympic Training Center in Colorado Springs, Colo. on Feb. 6. Tuba City will be there to defend its title.
The winners of that competition will then go onto the Junior ROTC National in Georgia and will then represent the Marine Corps for National Championships against the Army and Navy Junior ROTC programs.
"Our team has really come together this year, and its wonderful to see each of them grow and improve on a daily and weekly basis together, said Gunnery Sgt. Shaner regarding his winning sharpshooters. "Its fun, challenging, and very humbling to hear the other much bigger schools we have competed against, recognize the TC High talent and still be able to joke with our students at these competitive events. All the other schools were saying that Tuba City could only shoot two kids, that way the other competing school teams would have a fighting chance."
When the Arizona State Championship trophy was presented, Shaner said the Colonel in charge of the Phoenix schools said, "We are gonna have to find an event that Tuba City has not dominated."
"It feels good to be able to say that our TC High, a smaller more remote school with just over 800 total students, has just whipped some of the biggest schools in the state of Arizona," Shaner said. "With this new state win, it will help Tuba City High School get the possible new award status of an Honor School. This is still in the works. If that honor title is conferred after our annual inspection in February, that'll be the icing on the state championship cake."
Team Tuba city High Marine Junior ROTC includes Garrett Begay, 10th grade, Navajo Nation, First Place Gold Medal; Ashley Manygoats, 10th grade, Navajo Nation, First Place Gold Medal, Second Place Standing Position Silver Medal; Darrin Talawepi,11th grade, Hopi Tribe, First Place Gold Medal, Third Place Overall Individual Bronze Medal, Third Place Standing Position Bronze Medal; Lee,11th grade, Navajo Nation, First Place Gold Medal, Second Place Overall Individual Silver Medal, First Place Prone Position Gold Medal, First Place Standing Position Gold Medal; and Gunnery Sgt. Tim J. Shaner, 12th Grade (fifth Year Senior) Coach, First Place Coaches Gold Medal.
The state competition was held at the Ben Avery Shooting Facility in Phoenix on Jan. 13 and 14. Final scores were: Tuba City High School Marine Junior ROTC 2039, Trevor Brown 2014 and Flowing Wells 1955 and fourth Alhambra.
Tuba City High competed against 3A, 4A and 5A schools in this shooting competition.
For more information about the Tuba City High School Marine Junior ROTC program, call Gunnery Sgt. Shaner or 1st Sgt. Bustamante at 928-283-6969 or the Tuba City District Office of Public Relations at 928-283-1072.
(Rosanda Suetopka Thayer is Public Relations Director for Tuba City Unified School District.)