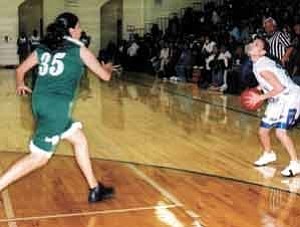 Originally Published: January 19, 2006 4 a.m.
POLACCA -- A great rivalry just became better. Tuba City and Hopi High have had a great rivalry for years, but the girls basketball game between the two teams last week may have been the most thrilling game.
Hopi High almost pulled off an upset before the Lady Warriors emerged with the victory in triple overtime.
Chantel Little came up big with eight points in the third overtime as Tuba City beat Hopi, 64-60, in girls high school basketball action last night.
Tuba City improved to 11-5 overall and 3-0 in the 3A North. Hopi nearly pulled off an upset but fell to 6-8 overall and 0-3 in the 3A North.
LeSonda Martin topped Tuba City with 13 points, Little fired in a dozen, Ashley Tsiniginnie netted nine, Kim
Tsinnie tossed in eight points, Andrea Slim pitched in with a half dozen points, Staci Tsingine and Charlee Richards added five points apiece, Stephanie Yazzie scored three, Helena Cody had a deuce and Brandi Tsingine hit a foul shot.
Nadia Nelson paced Hopi with 15 points, Deidra Jones poured in 11, Tamecia Lomawaima tossed in seven points, Savanna Anderson, Traci Honani and Nichole Kisto chipped in with six points apiece, Marleita Burbank scored four points, Rozanna Nasafotie and Candace Pocheoma had a deuce each and Patricia Sewingyewa hit a foul shot.
Richards scored four points in the first period as Tuba City took an 11-4 edge. Jones scored five points in the second period as Hopi cut the lead to 17-11 at halftime.
Anderson netted four points in the third period as the Lady Bruins went ahead 25-23.
Slim scored five points in the final quarter as the game went into overtime tied 37-37. Jones sank a layup with 10 seconds to go to send the game into overtime.
Martin had a chance to win the game at the buzzer, but her shot hit the rim and came out.
In the first overtime, both teams scored eight points. Kisto hit two treys to lead Hopi and Martin scored four for the Lady Warriors during this period.
In the second overtime, both teams scored seven points. Tsinnie led Tuba City with four points while Hopi had three players with two points each.
In the third overtime, Tuba City outscored Hopi 12-8. Little fired in eight points including two treys. Staci Tsingine also hit a trey for Tuba City during this final overtime period. Nelson scored five points to keep Hopi close.
Lomawaima hit a foul shot with 25 seconds left to pull Hopi within 64-60, but neither team would score after that.
(Stan Bindell, former Observer editor, is journalism and radio teacher at Hopi High School.)
More like this story