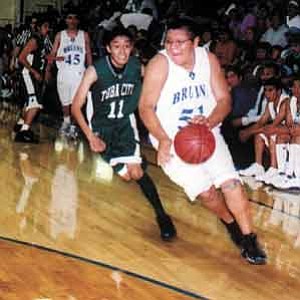 Originally Published: January 19, 2006 4 a.m.
POLACCA -- Hopi High pulled out a stunning and thrilling victory against Tuba City High, 69-68, in boys high school basketball action Jan. 10 at Hopi.
Michael Thayer hit two foul shots with 46 seconds left to seal the victory.
Hopi improved to 3-11 overall and 1-2 in the 3A North.
Tuba City dropped to 2-12 overall and 0-3 in the 3A North.
Thayer topped Hopi with 21 points, Renaldo Wartz fired in 20 points, Shawn Honanie chipped in with 10 points, Jeremy Adams tossed in eight points, Vincent Timms netted a half dozen points, Matt Lamson added two points and Michael Lomatewama hit a foul shot.
Kevin O'Connor paced Tuba City with 26 points, Alshone Klain and Aaron Victor netted eight points each, Jeremy Begay chipped in with seven points, Chris Edaakie tossed in five points, Maurice Brown added four points, Carson Begay and Sean Goldtooth scored three points each, and Rick Worker and Tyler Saganitso each had a deuce.
Tuba City led most of the first quarter with the largest lead at 15-7, but Hopi pulled within 17-14 by the end of the period. Victor led the Warriors with six points and Begay and O'Connor netted five each in the opening period. Wartz tossed in five and Thayer four to keep Hopi close.
Tuba City maintained a slim edge in the second quarter as Klain and O'Connor scored six points each as the Warriors led 31-26 at halftime. Timms and Thayer scored four points apiece for Hopi in the second period.
Hopi grabbed a 37-36 edge with 3:35 left in the third, but the Warriors came charging back to lead 46-41 going to the final period. O'Connor led the way with six third quarter points. Wartz and Honanie tossed in four each for the Bruins.
Hopi scored seven consecutive points to start the fourth period and grab a 48-46 edge only to have O'Connor nail a trey for Tuba City to retake the lead.
Thayer hit two foul shots and Honanie hit a jumper as the Bruins led 52-49. But Begay hit a foul shot, O'Connor sank two free throws, Edaakie put in a layup and Brown hit a jumper as Tuba City led 56-52 with 2:25 to go.
Wartz sank a driving layup, Adams hit a free throw and Wartz hit two foul shots as Hopi led 57-56 with 39 seconds left in the game.
O'Connor hit one of two foul shots with 12 seconds left to send the game into overtime.
Wartz nailed a trey to start the overtime period.
Jeremy Begay countered with a layup, but Honani hit two foul shots as Hopi led 62-59. O'Connor and Thayer exchanged baskets before O'Connor nailed another trey to tie the score at 64-64 with 1:45 to go.
Lomatewama hit a foul shot to give Hopi a 65-64 edge with 1:37 left, but Saganitso countered with two foul shots to give the Warriors the edge with 1:26 to go.
Honani put in a layup at the 1:14 mark and Thayer sank two foul shots with 46 seconds to go as Hopi nailed the victory.
O'Connor closed out the scoring with a layup with 35 seconds to go as neither team could score after that.
Hopi High Coach James Lomakema said the Bruins have room for improvement, but that they played well enough to win and they are definitely improving.
"We still need to stop all of our silly turnovers," he said.
Coach Lomakema said the Hopi High offense was aggressive.
"But we need to get ourselves in position where all five players on the floor are involved in the offense," he said.
Coach Lomakema said the defense did a good job.
"Everybody stepped up and did a good job on defense. But we need to have more help defense," he said.
Coach Lomakema said Hopi did a good job rebounding with Thayer and Youvella leading the way. He said that Thayer "did a heckuva job on rebounding, defense and offense." He said Honanie, Adams and Wartz were the other leaders for the Bruins.
Lomakema, who previously coached at Tuba City High, said the game had extra meaning for him because Tub City and himself are both competitive.
"But this is my home now and I'll do everything I can to take us to the next level," he said.
It was also a big victory because Hopi didn't want to start 0-3 in conference.
"This win was good for our morale," he said.
Tuba City Coach Steve Troglia Jr. said overall the Warriors played a good game despite the loss. He credited O'Connor with making things happen on offense. He said the defense gave up too many points in the paint.
"We didn't rebound as well as we should have down the stretch," he said.
Coach Troglia said the Warriors need to focus on defense and play at a higher level of intensity in order to improve.
(Stan Bindell, former Observer editor, is journalism and radio teacher at Hopi High School.)
More like this story