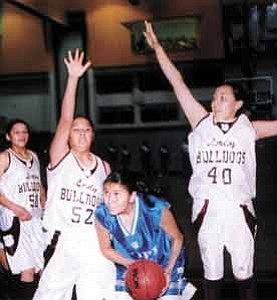 Originally Published: January 11, 2006 4 a.m.
WINSLOW -- Benita Johnson led Winslow with 16 points as the Lady Bulldogs overcame an early deficit to beat Hopi, 74-53, in girls high school basketball action Jan. 6 in Winslow.
Winslow improved to 9-4 and Hopi fell to 6-6. It was the 3A North Conference opener for both teams.
For Winslow, Levyna Ben poured in 14 and Elisha Billie netted 11. The other scorers for the Lady Bulldogs were Samantha Sam tossed in seven, Cassandra Jensen and Amber Nelson chipped in with six points apiece, Janeen Yazzie and Raquel Singer added four points each, and Arveda Yazzie and Lara Begay scored two points each.
Deidra Jones topped Hopi with 13 points, Nicole Kisto fired in a dozen and Tamecia Lomawaima netted nine points. Terra Morgan tossed in five points, Candace
Pocheoma and Marleita Burbank chipped in with four points apiece, Savanna Anderson added three points and Carrie Sakeva had a deuce.
Jones netted nine points and Burbank added four as the Lady Bruins led 15-8 after the first period. Winslow came storming back in the second quarter. Johnson fired in eight points and Nelson added six in the second period as Winslow led 30-21 at intermission.
Johnson fired in another eight points and Billie netted seven as the Lady Bulldogs led 58-31 after three quarters.
Jensen scored six points in the final period to seal the victory for Winslow. Kisto tossed in eight points for Hopi in the fourth quarter.
Winslow Coach Don Petranovich said this year's Winslow team could be better than last year's state championship team, but hasn't shown it yet.
"We didn't play very well in the first half. The girls had some issues. It was just some kid stuff. We took care of it at halftime and they played much better in the second half," he said. "If they're going to continue to do that, they need to just stay home."
Coach Petranovich said the Lady Bulldogs were just running around as if their head was cutoff in the first half.
"We can't do that. We can't just run mumbo jumbo. We need a reason for going somewhere," he said.
Coach Petranovich said Winslow also changed its defenses in the second half. The Lady Bulldogs alternated man-to-man defense and three different types of zones.
He said Winslow was able to win the battle of the boards with Arveda Yazzie and Levyna Ben leading the way.
Coach Petranovich said Winslow has started slowly this season.
"We got beat by some ball clubs, but we had great games against Snowflake and Pleasant Grove from Utah," he said. "We're not as good as we were last year so far, but potentially we could be better."
Coach Petranovich said Winslow should battle for the 3A North title this year.
Boys game
Six players scored in double figures as Winslow beat Hopi,, 106-44, in the boys basketball game.
Winslow improved to 9-3. Hopi dropped to 2-10. It was the conference opener for both teams.
Darvin Nez topped Winslow with 20 points, Russell Thomas fired in 16, Andrew Taliman poured in 14, Jordan Payne, Trevor Cantrell and Mario Sells netted 10 points each,, Jonah Budka chipped in with eight points, Mark Armao pitched in with seven points, Lucas Tom added five points, Josh Stago scored four and Ozzie Shirley had a deuce.
Michael Thayer paced Hopi with 10 points, Michael Lomatewaima netted nine, Vincent Timms scored a half dozen, Paul Huma and Matt Lamson chipped in with five, Shawn Honani scored four Renaldo Wartz had three and Jeremy Adams had a deuce.
Thomas scored 10 and Taliman eight as Winslow led 27-7 after the first quarter. Nez netted seven and Budka five as Winslow led 53-25 at intermission.
(Stan Bindell, former Observer editor, is journalism and radio teacher at Hopi High School.)
More like this story