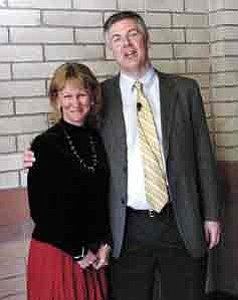 Originally Published: February 23, 2006 4 a.m.
Think back to a favorite teacher.
Recall why he or she made you feel so very special, gifted, talented, respected and why he or she just thought you could do anything you put your mind to.
Tuba City Unified School District is working on getting each of its teachers within all seven schools to respond to each student on an individual level, to set clear and high academic expectations, to make each student feel safe, to nurture strong and positive relationships, avoiding confusion or disruption, establishing a positive work supported environment creating an enriching educational environment, making that "special teacher-student relationship experience" the norm for each and every single one of their students in each of their almost 3,000 student classroom population.
Assisting on Feb. 15 in a full afternoon staff in-service with training on how to get to an "effective and well-managed classroom experience" was Dr. Robert Sornson, an educator, researcher, public presenter and author of several books on successful classroom management, student self-esteem, teaching with the brain in mind, utilizing both "love and logic to help a student reach their optimum educational experience."
This presentation would also assist TCUSD in addressing the recent adoption of the TCUSD Consolidation Plan in line with Public Law 107-110 No Child Left Behind that mandates all schools to employ "highly qualified teachers at the beginning of the 2005-06 school year."
Sornson's presentation for the TCUSD staffers, is the brainchild of Cheri Wells-TC Intervention Counselor and Dennis Bowen-TC Wellness Coordinator who have spent time working with Sornson in other off-reservation workshops and were highly impressed with his positive proactive approach to establishing trust and respect for each student to heighten all educational experience and invited him to Tuba City to share his knowledge of successful classroom management.
Sornson showed his audience that ineffective classrooms are not really problems or issues about student discipline but the lack of clear and effective classroom procedures and routines for students to follow.
If a teacher can establish clear and high expectations, rehearse and rehearse and rehearse some more each of these expectation and procedures, ensuring that each student clearly understands what is expected in the classroom that eventually "good behavior" becomes the "routine behavior or habit."
Along with these routines, there must be real life relevance to what goes on in the classroom.
Students need to understand what the connections are from their classroom assignments to real life.
Student questions like, "how will this connect to my real life? Or how will I use this information later, or even why do I care?" are real and genuine student questions about classroom work offered.
If a respectful, supportive and trusting classroom environment can be established through these methods, this structured classroom order will result in a more effective learning environment for all the students because they have real meaning and student emotional buy-in making the education process more substantial.
Some simple suggestions to help assist with building a positive student-teacher relationship?
Greet students daily at the classroom door, ask thoughtful questions about their families or selves, use humor in conversation and instruction, instructional match, positive expectations, positive notes, repeated classroom routines, caring and routine rituals, use of attribution theory.
Sornson also recommended establishing contact with every student's family, creating a connection between school and home, which results in emotional and academic achievement.
Sornson also says teachers need to note specific positive behavior about each and every student daily and let the parents know of this positive classroom behavior weekly, making each student know that they are indeed special and individual.
More ideas about parental involvement and ways to build this partnership relationship with students were shared in the afternoon session that was conducted at the Tuba City Junior High School cafeteria/auditorium.
Sornson will be invited back to discuss further more and detailed positive student relationship building methods with the TC community this coming spring.
For more information on Dr. Sornson and how you can participate in his next presentation at the Tuba City District Schools, call either Cheri Wells-TCUSD Intervention Counselor at 928-283-4041 or Dennis Bowen-TCUSD Wellness Coordinator at 928-283-1074.
(Rosanda Suetopka Thayer is Public Relations Director for Tuba City Unified School District.)