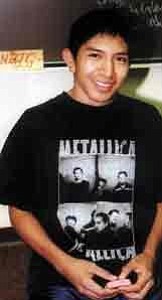 Originally Published: February 23, 2006 4 a.m.
POLACCA -- Hopi High School wrestler Stanley Lomayestewa placed eighth in the 145-pound category at the state tournament in Glendale Feb. 11.
Lomayestewa, a junior, won two of four matches at state.
The previous week Lomayestewa took second at the 3A North Regionals when he went 3-1. His only loss was to regional champion, Anthony Martinez from Winslow.
"I did a good job at region and it felt good to go 2-2 at state," he said. "I moved up from last year."
Lomayestewa finished the season with a 20-12 mark.
"I'm looking forward to next year. I want to finish first at regionals and in the top three at state next year," he said.
Lomayestewa will go out for track in the spring and football in the fall to stay in shape to prepare for next year's wrestling team.
"I'll stay in shape during the summer by running," he said.
Lomayestewa also plans to attend some summer wrestling camps.
Lomayestewa's father Lendrick serves as the wrestling team's assistant coach.
"It's awkward wrestling for my dad because my parent is with me at all the meets. It means having to work harder, but he is always there to encourage me," the youngster said.
Lomayestewa said the Bruins wrestling team could have done better this year if the wrestlers were more dedicated to showing up for practice.
"I want to be a team leader next year and encourage the other wrestlers to do their best," he said.
Lomayestewa, a B-average student, plans to attend Hi Tech in Phoenix to major in computer engineering after he graduates.
He is the son of Hallie and Lendrick Lomayestewa of Kykotsmovi.
(Stan Bindell, former Observer editor, is journalism and radio teacher at Hopi High School.)
More like this story