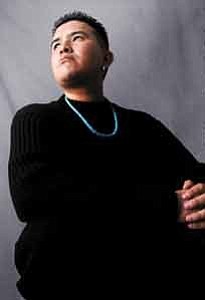 Originally Published: February 8, 2006 4 a.m.
FLAGSTAFF -- In talking to Gabriel Yaiva, it seems that news of his nomination for Native American Music Award (NAMMY) recognition is the last thing on his mind.
Yaiva is a busy man in the Native American activist community of Flagstaff, the Navajo and Hopi nations--plus he has holds personal concerns about the messages inherent in competitions like the music awards.
Nonetheless, for the first year Yaiva submitted his "Limited Edition" CD for consideration, persuaded by his wife and family.
The submission was indeed fruitful. "Limited Edition," the fourth full length album produced by Yaiva's label 4th World Entertainment, has been nominated for Best Rap/Hip-hop Recording, Record of the Year, Song/Single of the Year, "Down 4 a Struggle," Songwriter of the Year, and Best Debut Artist of the Year.
The so-called "NAMMYs" are the most coveted awards for the Native American music community, according to Yaiva's wife Somana.
The journey to this year's competition has been a long one. Yaiva was born in Tuba City, has lived in Hotevilla and Pinon, but spent most of his life in Shiprock, N.M.
He said he has been interested in music for most of his life--remembering stories told of him belting out performances on his auntie's table in Hotevilla, singing along with KTNN to the praise of his school bus driver to and from Pinon.
In explaining how a boy who once sang along to country and western music got into hip-hop , Yaiva laughed.
"That is a crazy story," Yaiva said. "I was in junior high in Shiprock, a place notorious for its gang violence and murder. When I was there, the violence was starting to explode.
One of my classmates loaned me some music, told me I should listen to it. I fell in love with Public Enemy and Chuck Dee's message. I forced my mom to buy me every CD Public Enemy put out."
By high school, Yaiva said, he was involved in the gang culture in Shiprock, "for good or bad." But unlike others, Yaiva wrote music to escape. Others were not so lucky.
"In high school, this friend ended up killing two people," Yaiva said. "About a year ago, I read on the front page of the Navajo Times that he had held up liquor stores, and that there were bullets in the ceiling. I couldn't believe it."
By the age of 14, Yaiva was seriously working on writing his own music and during the same period began recording demos in home studios.
Yaiva's first self-produced demo for sale, featuring a simple black and white cover, moved 2,000 copies. The effort attracted the attention of Arizona's hip-hop scene.
"I had all the emcees calling asking us, 'how do you do it?' Native people support native people," Yaiva explained.
Soon he was opening for almost every major rapper in Phoenix, and has now opened for nationally recognized performers.
Yaiva has had a lot of help along the way. A friend named Tito took Yaiva to Seattle at age 18. He is also grateful to fellow Hopi rapper Casper for showing him the ropes of the business. He has collaborated with names such as DJ Young Native, DJ Kiss from Zuni and more.
One of the big "rush" moments of his career was a performance at the Wahoe Indian Colony's Native American film festival, which featured a concert for the youth.
"I performed in front of the film festival's big screen, which displayed live streams of our performance. I could actually see myself on the big screen. It was a mind-blowing experience."
Yaiva has also performed in Los Angeles, New Orleans, Ontario and the Michigan area.
Yaiva believes that rap is an important medium for reaching youth, both Native and non-native, but objects to the messages sent out by mainstream hip-hop music.
"The hip-hop you see on television denigrates women, depicts drug dealing and violence. That's not what hip-hop is about. That's not us as native people," Yaiva said. "I've been asked to perform music like this, but I won't do it."
Yaiva and other Native hip-hop artists have incorporated the teachings from their native communities and the elders.
Yaiva also objects to images in commercials and music videos.
"These depictions are an attack on today's youth. If they don't have the body, the clothes or the lifestyle they see there, they are made to feel inferior and lose their self-esteem. Our youth are under violent mental attack."
Though he has produced CDs, Yaiva said that his main motivation is doing live shows for free. Yaiva is a prominent feature in efforts of local Flagstaff activist groups such as Youth of the Peaks and ECHOES.
Yaiva has also been involved with a new CD, due for release in February. The CD, sponsored by the group ECHOES, is a compilation of artists including Casper, Red Cloud, Big Trub, Ras K'Dee, Supaman, Nakai, JayNez and Maniac. The proceeds for the album will support the efforts to defend the sacred San Francisco Peaks from artificial snow.
"With everything that has happened [the recent ruling in an Arizona district court supporting snowmaking] it's crucial to get the word out," Yavia said. "We are organizing a release concert that will take place at The Hive here in Flagstaff."
Yaiva will also head an upcoming four-day tour March 2-5 through Flagstaff and the Navajo, Hopi and Zuni reservations. Proceeds will benefit the Substance Abuse Prevention and Gang Awareness Program, sponsored by the Native Movement and 4th World Entertainment.
Yaiva and his wife, Somana, celebrated their five-year anniversary last November. The couple has a five-year-old daughter and their son is approaching his first birthday. They also operate a business, while Yaiva expects to graduate from Northern Arizona University in May with a major in applied indigenous studies and a minor in economic development.
"We've been blessed," Yaiva said of his music career and his family.
The NAMMY competition will be officially open for public voting online in two weeks. All votes are cast on-line only, and ballots can be accessed at www.nativeamericanmusic.com.
Parties interested in sponsoring the Native Movement tour or who are seeking more information can contact Yaiva at 928-699-9601 or yaiva@4went.com and www.nativemovement.org.
More like this story