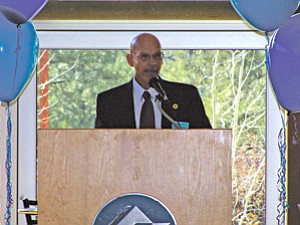 Originally Published: December 19, 2006 5:03 p.m.
FLAGSTAFF-As 2006 comes to a close, the Coconino Community College (CCC) community fell into seasonal form-bidding a fond farewell to its president of seven-and-a-half years Dr. Thomas Jordan, concluding its 15th anniversary celebration, and choosing a new mascot to lead the students and faculty into the future.
On Dec. 13, a ceremony commemorating these two notable changes took place in the festively decorated Commons of the CCC Lone Tree Campus. Kicking off the celebration was the announcement of the new CCC mascot.
"We had well over 100 entries and our team of judges, made up of college employees, district governing board members, folks from the Pepsi-Cola Bottling Company and the CCC Foundation, struggled with this important decision," Jordan said. "But this afternoon, I'm proud to announce the winning name."
Jordan kept the attendees in suspense as he first recognized the four runners-up: Nancy Elliot, who suggested the Coconino Raptors; Mike Lainoff, who proposed the Canyon Wrens; Janelle Indian, Rosa Mendosa Logan, Barb Eickmeyer, Rosy Steinwand and Michelle Etsitty who submitted the Coco Bears (separately); and Tess-Simone Ramirez, Keith Mook, Donna Wilson, Belinda Donahoe, Cr. Kathleen Corak, Bob Erb and Winnie Taney who submitted Coconino Condors (separately).
Each of these recipients received a 15th anniversary coffee mug.
At last, the winners of the Name the Mascot Contest were announced. Both A.J. Junior and Jim Vail of Flagstaff submitted the name "Comets" to represent CCC.
According to Blake Rolley, CCC Foundation president, the Comets was chosen, "…because, like a shooting star, the college has started small, but burns bright. It is a very appropriate mascot for northern Arizona's famous night skies. A hundred years ago Flagstaff promoted itself as the sky light city, so Comets keeps to the theme."
Bonnie Stevens, CCC director of marketing and public relations, explained that an official logo has yet to be chosen and will hopefully be selected in the early part of 2007.
Both Vail and Junior received $500 scholarships from the CCC Foundation to be used at CCC.
Following this exciting announcement, Jordan took the podium to formally announce his resignation.
"I have made the difficult decision to retire and leave the place that has been the soure of so much professional enjoyment for me," Jordan said.
"It is now time for my wife, Laureen, and me to focus on family, travel and the pursuit of our interests."
Jordan explained his happiness in several of the successes he has been part of during his years at CCC including full accreditation by the North Central Association, growth in enrollment, programs and facilities.
CCC has also implemented strategies to reach students in some of the most remote areas of Arizona through interactive television and the internet.
The college also offers more career and technical programs than ever before.
Jordan will resign his position as president March 31.