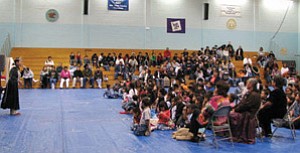 Originally Published: December 19, 2006 5:22 p.m.
TONALEA-On Wednesday, Dec. 13, Tonalea School hosted the Wellness Fair featuring Miss Navajo Jocelyn Billy as the motivational speaker. As event coordinators fine-tuned the day's program, staff members were eager to begin accepting parents through the doors.
Three months ago Tonalea School started contacting potential presenters from respective departments from the Navajo Nation, Tuba City Regional Health Care Corporation (TCRHCC) and Northern Arizona University (NAU) Talent Search to provide parents with information about healthier living and educational needs. An agreement with KTNN provided a live, remote radio broadcast allowing administrators, teachers and parents to express their thoughts and views about how Tonalea School is focusing and ensuring that students are made aware how to create a lifetime healthy living.
More than sixteen departments were represented and parents were given the opportunity to attend workshops with Tuba City Prosecutor's Office and Peacemaking Court, Tuba City Juvenile Detention Center, Diabetes Prevention Program and Navajo Nation Family Planning.
The gymnasium was used for booth presenters including: TCRHCC Health Promotion, Coconino County Sheriff's Office, a nursing recruiter, nutrition diet education, mammography/ breast cancer, Dine' College, Vocational Rehabilitation, Childcare Development/ Fund Program, Navajo Department of Workforce Development, Public Health Nursing, NAU Talent Search, John Hopkins University Project. Each booth was stocked with valuable information that was thoroughly enjoyed by parent.
Feedback from parents, presenters and community members on this year's Wellness Fair was positive.
Presenters were treated to a hospitality room for refreshments and a lunch provide by the Wellness Program. Following the event, the presenters agreed the Tonalea Wellness Fair was a success and well organized.
Miss Navajo Nation Jocelyn Billy, the keynote speaker, provided students and parents with a motivation speech of "embracing who you are." Miss Billy spoke powerfully of ways of "respecting self, family and always to think positively everyday." Students sat captivated as her words of encouragement filled the gym. Miss Navajo's positive impression of greeting students, parents and teachers left everyone feeling rejuvenated-evident through the smiles and appreciation throughout the gym.
Tonalea School's Miss Tonalea Calstina Tohannie and Lil' Miss Tonalea Shania Begay were amazed to see Miss Navajo, as they were both dressed in their respective tiaras and in their traditional Navajo dresses.
Tonalea School wishes to express special thanks to all service providers from the Navajo Nation, TCRHCC, NAU and Miss Navajo Nation Jocelyn Billy for joining Tonalea School in promoting healthy lifestyles. The school also thanks KTNN for providing the live remote broadcast.
Tonalea School is planning to host another Wellness Fair in spring 2007.