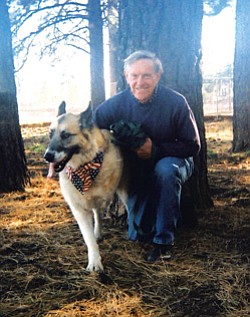 Originally Published: December 19, 2006 5:43 p.m.
FLAGSTAFF-Heroes come in all shapes and sizes and sometimes they come in unexpected forms. A local three-legged hero with a history of undaunted courage will soon head east to help injured war veterans with healing and rehabilitation. His name is Jack, and he is a wolf/German shepherd hybrid. Jack recently received U.S. Senatorial commendations for his work with veterans, rehabilitation centers and nursing homes throughout the west. He will travel from his Flagstaff home in January for a medical tour of the Brooks Army Medical Center and Walter Reed Army Hospital where he will help America's wounded warriors.
"Jack had a hard start in life," the courageous canine's handler Richard Gliebe explained. According to Gliebe, Jack was born in Oakland, Calif., and the people who had him treated him badly. When he was only a few months old, he fell out of the back of a truck on the Oakland freeway and was run over. His left front leg was mangled.
Jack's owners took him to the Oakland Animal Shelter and requested that he be euthanized because he was damaged. Luckily, a group called Hopalong Animal Rescue intervened and paid for his surgery and rehabilitation.
Gliebe fondly recalled, "I saw his picture and learned about his story from Oakland television station, and knew I had to take this dog in and care for him. When I saw his strength and gentle spirit, I named him Jack, after Jack London, another of Oakland's famous sons."
Gliebe, a retired rancher and Vietnam-era Marine veteran with business and law degrees from the University of San Francisco explained that adopting Jack changed his life. "I had a house and gardens in the Oakland Hills. I had never done any community service work, but as I worked with Jack and saw his strength and gentleness, [I] realized what a great disposition he had, despite his early life of pain and suffering [and] I knew I had to share him with the world."
After working with Jack for a year and training him as a therapy canine, the pair began visting nursing homes and rehabilitation centers. Jack's mere presence was a tonic for sick and depressed people. "Jack has helped so many people," Gliebe explained. "I remember one case where a woman was so depressed from being sick that she refused to get out of her bed. Once Jack started visiting, she really opened up, she looked forward to his visits and finally not only left her bed, but started speaking and interacting with other patients and staff. Jack made a difference in her life."
Gliebe stated that four years ago, he decided to take Jack and travel the Colorado Plateau, visiting nursing homes, rehabilitation centers and hospitals. During an extended stay in southern Utah, Jack's work came to the attention of Senator Orrin Hatch. The Senator's staff invited Jack and Gliebe to a meeting in his Utah office. "Jack is so honest and unpretentious, he just made himself at home and jumped right on the Senator's leather couch," Gliebe, who calls himself, "the man at the end of the leash," laughed. "The staff enjoyed Jack, and [Hatch] wrote a commendation for him and notified the Department of Defense about Jack's abilities to help veteran amputees. So, we are going to Brooks Medical Center in San Antonio after the holidays and then most likely on to Walter Reed."
For the past several months, Jack and Gliebe have been landscaping the grounds of the Motel 6 Woodlands Village. "Jack is the public relations manager for our Motel 6," General Manager Angelica Johnson explained. "Jack sets an example for all of us to follow. So many times, people complain about minor problems, but Jack shows people how to put things into perspective."
Johnson explained that a Motel 6 executive was so impressed with Jack during a summer visit, that he asked their media relations department to write an article about him for their employee magazine. "In addition to the beautiful flowers that Richard (Gliebe) has brought to us, Jack makes many good friends for us-it's amazing the magnetism that he has. He is an example to follow [and] he is an inspiration. He loves everyone and everyone loves him. Some people say there are angels, I believe that Jack is a kind of angel," Johnson added.
As a result of their work in Flagstaff, a new member joined Jack's household. Jack and his person adopted an abandoned yellow kitten. "We named him Charley, after John Steinbeck's animal in Travels with Charley," Gliebe explained. Charley thrives on the love and attention Jack and Gliebe give him.
Jack's pack
During their travels, Jack and Gliebe have met thousands of people, who are impressed with Jack's gentleness and agility. "People notice that he has only three legs and they are curious," Gliebe said. "I tell them Jack's story, and they are amazed." Gliebe said he keeps a journal about Jack and the people he meets. While working in St. George and Kanab, Utah, staff and patients at rehabilitation facilities started calling themselves "Jack's Pack." Gliebe explained that he liked the pack concept, and keeps notes about Jack's meetings and visitors, he records names and addresses and emails of people who want to keep informed about Jack's work.
"Wounded veterans are inspired by what Jack does-he is very agile, and can do everything with three legs that normal four-legged dogs can do. When amputees see Jack, they are impressed with his courage, and it inspires them," Gliebe said. "Jack was almost destroyed because of his injuries. But there is a lesson here: every living thing has something to offer. Jack has been an inspiration and a surrogate dog and family member for so many people. He has helped so many people. Don't ever give up on an animal or a person, just because they are damaged. Don't put an animal to sleep just because they are inconvenient. Help them and they will give so much in return."